– INTELLIGENCE DEPUTY KILLED IN AFGHANISTAN
–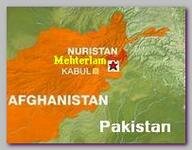 At least 23 people, including the deputy head of Afghanistan's intelligence service – NDS, Abdullah Laghmani, have been killed in a suicide attack, on Wednesday 09/02/2009, near Kabul. .
Sayed Ahmad Safi, the provincial governor's spokesman, aid that at least 23 people had been killed and confirmed that Abdullah Laghmani was among the dead.
Abdullah Laghmani was key figure in Afghan regime and their fight against the Taliban. Several other government officials were also thought to have been killed in the attack.
The attack came as a group of government officials were inaugurating a Mosque in the city of Mehterlam, 100km east of Kabul, the Afghans capital.
"There was a suicide attack outside Mehterlam mosque. There are a big number of civilian deaths. A number of government officials have also been killed," Zemarai Bashary, an interior ministry spokesman, said.
The Taliban claimed responsibility for the attack, saying it had targeted senior officials.
An Associated Press photographer at the site said USA troops and Afghan officials had surrounded the blast site.
The attack underscores the increasing security problem in Afghanistan. It is almost certain that the attack was assisted by the inner circle of the security apparatuses in Afghanistan (see – Baghlan attack). 
The NDS is headed by an ethnic Tajik, and analysts warn that the killing of Laghmani, a Pashtu, could further exacerbate ethnic tensions in the country (see – THE-SHOW). 
.
* Related topics –  
–
08/2009 -43 KILLED IN KANDAHAR WEDDING 
08/2009 -4 US SOLDIERS KILLED IN SOUTH AFGHANISTAN 
04/2008 -KARZAI ESCAPED KABUL PARADE ATTACK 
.
**********-N-***********
Read more ;
–