Syria
Jabhat al-Nusra - Jabhat an-Nuṣrah li-Ahl ash-Shâm - in Arabic "The Front of Support for the People of the Sham (Greater Syria), is a branch of al-Qaeda operating in Syria and Lebanon.
Continue reading
44 KILLED IN KURDISH QAMISHLI CAR BOMB BLAST
–
A huge car bomb attack, on Wednesday 07/27/2016, killed aT least 44 people in the Kurdish-majority city of Qamishli in northeastern Syria, Syrian state television reported.
The official SANA news agency said at least 140 people were also injured… Continue reading →
THE U.S RELATION WITH MEAS"TS REALITY – UPDATE
–
Secretary Of State John Kerry said, on Wednesday 06/29/2016, I.S.I.S had begun targeting airports as an act of despair in the face of defeat, hours after the attack that left up to 50 dead in Istanbul, Turkey. It is… Continue reading →
FOURTH SUCCESSFUL ATTACK ON DAMASCUS SAYEDA ZAYNAB SHRINE – A BLOW TO ASSAD
–
I.S.I.S has claimed responsibility, on Saturday 06/11/2016, for a car blast and suicide bombings in Syria's south Damascus quarter, that contains Syria's holiest Shiite Sayeda Zaynab (Zaineb) Muslim shrine, that killed at least 20 people, the militants-linked Amaq News… Continue reading →
MOSQUE BOMBED AT ASSAD'S STRONGHOLD – LATAKIA
–
Just 10 days after over 140 people were killed in the heavily protected Alawite enclave on the Mediterranean shores of North-Western Syria, another suicide bomber on a motorcycle in Latakia, the provincial capital, blew himself up, on Thursday… Continue reading →
THE AMERICAN FORCEPS OFFENSIVE AGAINST ISIS
–
In the Southern flank of the US led offensive against the Islamic State the Iraqi military is closing in on the city of Falluja, which has been held for two years by the Islamic State group, several Arab… Continue reading →
OVER 140 KILLED IN SYRIA'S ALAWITE STRONGHOLD
–

A series of bombings hit two Syrian regime bastion cities on Monday 05/23/2016, killing at least 140 people, state media and the Syrian Observatory for Human Rights monitor said.
Observatory said four blasts, at least one of them a… Continue reading →
WHO KILLED MUSTAFA BADR AL-DIN (BADREDDINE) ?l
–
* Mustafa Badr al-Din, who replaced Imad Mughniyah as Hizbolla's military commander in Syria, was killed, on Thursday 05/12/2016 late night, in a 'big explosion' in the well guarded military section of Damascus International airport, on the Southwestern… Continue reading →
–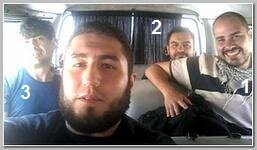 3 Spanish journalists who went missing after entering Syria are feared to have been kidnapped, according to reports.
Antonio Pampliega, Jose Manuel Lopez and Angel Sastre disappeared after entering the county through Turkey on 07/10/2015,, according to the… Continue reading →
13 IRANIAN ELITE REVOLUTIONARY GUARD KILLED NEAR ALEPPO
– 
13 elite Revolutionary Guard troops were killed in a battle with Islamist militants over a village near the Syrian city of Aleppo, Tehran said on Saturday 05/07/2016, in one of Iran's biggest single-day losses since it sent forces… Continue reading →