Philippines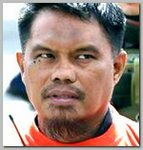 Philippine troops have captured, on Sunday 03/16/2015, a former  leader of Abu Sayyaf –  Mohammad Ali Tambako, accused of protecting two terror suspects wanted by the USA, officials said Monday.
Army and police forces arrested Mohammad Ali… Continue reading →
The founding member of Abu Sayyaf Ustadz Ahmadsali Asmad Badron, also known as Ustaz Idris, was arrested by police, Saturday 07/28/2012 , in the remote Tawi-Tawi islands in the southern Philippines.
Continue reading
An Abu Sayyaf member in Basilan, Harun Jaljalis alias "Abu Indal", who is wanted for at least four kidnapping with serious illegal detention cases, was arrested early Thursday 02/02/2012, authorities said.
Continue reading
At least 15 Islamic extremists, including three senior leaders, Umbra Jumdail, Zulifli bin Hir and Muawiyah Anjala, were killed in an air raid in Parang town in Jolo Island at dawn Thursday 02/02/2012.
Continue reading
Hussein Atris was born in the Shiite town Nabatiya, South Lebanon, on 11/11/1964. His familly is well connected to the Hizbullah.
Continue reading
– 3 KILLED IN SOUTHERN PHILIPPINES HOTEL BLAST
An explosion has ripped through a small hotel in Zamboanga, the southern Philippines, on Sunday 11/27/2011 evening, killing three people and injuring at least 27 more Continue reading
Seven soldiers, including a junior officer, were killed while 21 others were injured, on Thursday 07/28/2011 dawn, in an encounter with Abu Sayyaf bandits in Patikul town in Sulu (Jolo),
Continue reading
– 2 AMERICANS ABDUCTED IN SOUTHERN PHILIPPINES
More than a dozen armed men abducted, on Tuesday 07/12/2011 dawn, a naturalized American, Gerfa Yeatts Lunsmann, 50 and her teenage son Kevin. Continue reading
The Philippines has overtaken Indonesia and Thailand as the country facing the greatest threat from terrorism according to FTI-International Risk report released on Tuesday 01/11/2011
Continue reading
A bomb exploded inside a Catholic Church during the Christmas mass in Jolo, Southern Philippines, injured 11, on Saturday 12/25/2010 at about 07:20, according to local news sites.
Continue reading