Asian Activists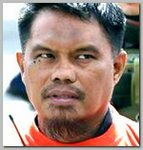 Philippine troops have captured, on Sunday 03/16/2015, a former  leader of Abu Sayyaf –  Mohammad Ali Tambako, accused of protecting two terror suspects wanted by the USA, officials said Monday.
Army and police forces arrested Mohammad Ali… Continue reading →
Bangalore City police, on 08/29/2012, arrested 11 suspects with alleged links to Lashkar-e-Toiba and HuJI and claimed to have foiled their plan to target mediapersons and leader of a Hindu outfit.
Continue reading
The founding member of Abu Sayyaf Ustadz Ahmadsali Asmad Badron, also known as Ustaz Idris, was arrested by police, Saturday 07/28/2012 , in the remote Tawi-Tawi islands in the southern Philippines.
Continue reading
The Saudi authorities confirmed, on 07/01/2012, they have arrested the Indian terror suspect Fasih Mehmood.
Continue reading
– ZABIUDDIN, A MUMBAI 11/2008 SUSPECT, ARRESTED
Police in Delhi said, on Monday 06/25/2012, they have arrested Zabiuddin Ansari, also known as Abu Hamza or Jindal, a key figure allegedly involved in the planning of the deadly Mumbai attacks of 2008. Continue reading
Two more terror suspects Akheel Khilji and Mohammed Jafar Hussain Qureshi, were arrested from their hideout in Buldhana district of Maharashtra, India, on Tuesday 03/27/2012.
Continue reading
An Abu Sayyaf member in Basilan, Harun Jaljalis alias "Abu Indal", who is wanted for at least four kidnapping with serious illegal detention cases, was arrested early Thursday 02/02/2012, authorities said.
Continue reading
Sri Lanka has reportedly ordered 161 foreign Muslim preachers to leave the country for flouting visa regulations immigration officer said on Sunday 01/22/2012.
Continue reading
– 2 INDIAN MUJAHIDEEN ARRESTED IN MANKHRUD, MUMBAI
2 car thieves, Mohammed Mobin Abdul Shakoor Khan and his cousin Ayub Raja Amin Shaikh have been alleged to be members of an INDIAN Mujahideen - IM module where arrested, on 07/06/2011. Continue reading
– AGUS SALIM REARRESTED IN MALAYISIA
Malaysia has re-arrested, on Monday 06/06/2011, Agus Salim, an Indonesian who slipped back into the country after being deported two years ago. Continue reading