Uzbekistan
UZBEK MUSLIM NANNY BEHEADED A CHILD IN MOSCOW
–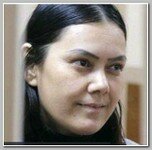 * Gulchekhra Bobokulova, a 38-year-old mother of three  from Uzbekistan and a nanny in Moscow, Russia's capital, was accused, on Wednesday 03/02/2016, of murdering and then decapitating a little girl in her care has admitted in court… Continue reading →
– ULUGBEK KODIROV CHARGED WITH ATTEMPT ON PRESIDENT OBAMA
Ulugbek Kodirov,already charged with threatening the life of President Barak Obama, was also charged, on Thursday 02/09/2012, with providing material support for terrorism Continue reading
The FBI arrested, on Saturday 01/21/2012, a refugee from Uzbekistan, Jamshid Muhtorov, at Chicago's O'Hare airport on charges that he planned to travel overseas to fight for a Jihadi terrorist group
Continue reading
A senior leader of the Islamic Movement of Uzbekistan –IMU, has been captured, on Monday 06/27/2011, in Kunduz, northern Afghanistan dressed up like a woman.
Continue reading
Naamen Meziche was born in 1970 in Paris. He is a French citizen from Algerian descent who lived in Hamburg.
Continue reading
Usmon Odil,Tohir Yuldashev's successor, in his own online address to followers, confirmed that Yuldashev was killed by an air attack on 08/27/2009.
Continue reading
State television in Uzbekistan said a suicide bomber has killed a police officer and wounded several people in the eastern city of Andijan, on Tuesday 05/26/2009.
Continue reading
On 02/16/1999 6 car bombs exploded, almost simultaneously, in the Center of Tashkent, Uzbakistan's capital, in what appeared to be an attempt on Uzbakistan's president Islam Karimov's life.
Continue reading
Mullah Nazeer Ahmed Hamza, was born in 1975 in Bermel, the Afghan side of South Waziristan.
Continue reading
On 07/30/2004, just four months after the March 2004 Attacks, the same terror infrastructure committed yet another attack when three suicide bombers blew themselves up near the Israeli and the nearby USA embassies in Tashkent, Uzbekistan's capital.
Continue reading