Egypt
MISSING EGYPT-AIR FLIGHT MS840 TO CAIRO – UPDATE
–

An EgyptAir flight from Paris to Cairo has disappeared from radar, on Wednesday 05/19/2016 pre-dawn, the Egyptian airline says. It says there are 59 passengers and 10 crew members on board Flight MS804.
The aircraft was flying at 37,000ft… Continue reading →
8 POLICEMEN AMBUSHED & KILLED IN CAIRO
–
Gunmen shot dead eight plainclothes Egyptian policemen in the Helwan district south of Cairo, the interior ministry said Sunday 05/08/2016.
The policemen were traveling in a minivan when the assailants in a pickup truck blocked their path and sprayed… Continue reading →
ISIS CLAIMED SUICIDE ATTACK THAT KILLED 13 EGYPT'S SINAI POLICE
PALESTINIAN TERROR SUSPECT NABBED BY ISRAEL
–
The Shin.Bet (Israel Security Agency) announced, on Sunday 03/06/2016,  the arrest of 33-year-old Muhammad Nazal from Kabatiya, in the Northern East Bank in the Palestinian Authority's controlled erea, a suspected terror operative who allegedly belonged to… Continue reading →
A bomb, on Monday 06/29/2015, targeted the convoy of the Egyptian state prosecutor Hisham Barakat,  in the capital Cairo,  security officials said.
A senior police officer told Agence France-Presse that top prosecutor Hisham Barakat and his bodyguards… Continue reading →
– 14 KILLED IN EGYPT'S TERROR ATTACKS
–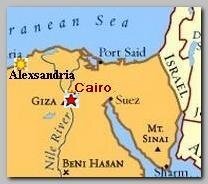 Hours after 5 policemen have been killed in an attack on a checkpoint in the North of Egypt's restive Sinai peninsula,  in El-Arish district, on Thursday 01/21/2016 morning,  a bomb blast killed 9 more people including… Continue reading →
– ATTACKS ON TOURIST LOCATIONS IN EGYPT
–
** Three  foreign tourists  at the Bella Vista hotel have been injured in an attack at a hotel in the Egyptian Red Sea resort of Hurghada on Friday 01/08/2016 evening. The attackers. armed with knifes t,… Continue reading →
– 16 KILLED IN CAIRO RESTAURANT BOMBING
–
16 people have been killed in the Egyptian capital, Cairo, after firebombs were thrown into a restaurant, which also housed a nightclub. on Friday 12/04/2015 , officials said. The attack happened in the Agouza area, in the city center.… Continue reading →
– 4 EGYPTIAN POLICEMEN KILLED IN DRIVE-BY SHOOTING
–
Four Egyptian police have been killed in a drive-by shooting, security officials said on saturday 11/28/2015.. The shooting happened in the Saqqara area, some 35km (22 miles) south of the capital Cairo.
The unidentified attackers opened fire on a… Continue reading →
– EXPLOSION DOWNED THE RUSSIAN AIRLINER IN SINAI
–
A Russian passenger Metrojet Airbus A321 plane has crashed in Egypt's Sinai Peninsula, on Saturday 10/31/2015 at about 05:51,  23 minutes after takeoff from  the Sharm el-Sheikh heading to St Petersburg .   Egypt's civil aviation… Continue reading →