Arab Spring
SYRIA: PEACE WITHOUT PARTNERS
–
Just few days ago, on 01/14/2016, a "Unity" government deal was struck   between the rival Tobruk and Tripoli regimes, backed by the international community, was formed in Libya aimed, first of all, to fight the Islamic… Continue reading →
– RUSSIA TO STAY IN SYRIA 'INDEFINITELY'
–
Newly published details, on Sunday 01/17/2016,  of the deal, signed on 08/26/2015, before Russian airstrikes in the country began, suggest Moscow may maintain a long term military presence in the Middle East 
Details of the agreement regulating… Continue reading →
– THE KURDISH THIRD INTIFADA (UPRISING)
–
The Kurdish population in South Eastern Turkey preserve the right of self determination like any other nation in the world. They fought Turkey for an autonomy during the years 1984-1993, then a second round in the years 2004-2012, following… Continue reading →
On 04/22/1979, while not yet 17, Samir Quntar shot dead Dani Haran from 2 meters and then crushed the head of his 4 years daughter Ainat with the handle of his gun.
Continue reading
– THE NEW SAUDI VIRTUAL COALITION AGAINST 'EXTREMISM'
–
Saudi Arabia has said, on Monday 12/14/2015, 34 mainly Muslim nations have joined a new military alliance to fight terrorism. A joint operations centre is to be established in the Saudi capital, Riyadh, state media reported.
Countries from… Continue reading →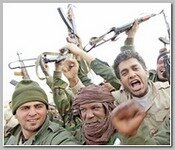 * I.S.I.S  militants have slit the throats of five journalists working for a Libyan TV station in the eastern part of the country, an army commander said on Monday 04/27/2015.
The reporters had been missing since 08/2014  … Continue reading →
According to final figures at 135 people were killed in Yemen, on Friday 03/20/2015, and about 340 were injured after two suicide bombers targeted two mosques in central Sanaa,The attacks occurred during Friday prayers at the Al-Badr and… Continue reading →
A video published by the Islamic State of Iraq and Syria (I.S.I.S), on Thursday 02/26/2015, showed statues and artefacts dating back to thousands of years being smashed into pieces, drawing ire from the international community.
Three "ISIS criminals" accused… Continue reading →
Following the civil war in Syria, since early 2011, thousands of Sunni Muslims from the Western Democracies flocked to Syria to fight for "Islam".
Continue reading
On 06/29/2014, Abu Bakr al-Baghdadi announced the establishment of a caliphate and himself as its caliph, to be known as Caliph Ibrahim, and the Islamic State of Iraq and the Levant was renamed the Islamic State.
Continue reading