Kashmir
– INDIAN ARMY IN CLASHES WITH PAKISTANI AFFILIATED TERROR
–
Fresh gunfire and a blast have been heard, on Sunday 01/03/2016, at an Indian air force base at Pathankot near the Pakistani border, as troops reportedly battle the remnants of a Pakistani affiliated group, the Jaish-e-Mohammed,  that attacked… Continue reading →
–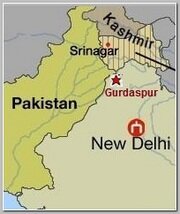 Indian security forces, on 07/27/2015, are battling gunmen who stormed a police station in Gurdaspur, northern Punjab state, close to the border with Pakistan.
The state-run All India Radio said four to five armed men had "fired upon a… Continue reading →
HAFIZ MUHAMMAD SAEED
Hafiz Muhammad Saeed was born in the mid 50s' in the Punjab region of Pakistan. He is a professor in Islamic Studies department of Engineering in Lahore University. Continue reading
-Qaeda leader Ayman Al Zawahiri has announced, on 09/03/2014, the formation of an Indian branch that, he said, would "raise the flag of jihad" across the subcontinent.
Continue reading
A prominent religious leader in Indian-administered Kashmir, Maulana Shaukat Ahmad Shah, has been killed by a bomb outside a mosque in Srinagar, on Friday 04/08/2011, officials said.
Continue reading
Police in Indian-administered Kashmir said, on Monday 11/29/2010, they have killed Abdul Rehman - also known as Naveed a senior commander of the Lashkar-e-Toiba (LeT) militant group.
Continue reading
– INDIA – PEACE TALKS AFTER TERROR ENDS
the Indian Prime Minister Manmohan Singh has made it clear, on Monday 08/16/2010, that peace talks with Pakistan could not get an impetus unless Islamabad stopped backing outfits operating from its soil and exporting terror to India. Continue reading
– KASHMIRI COP JAILED FOR TERROR
A city court Monday sentenced a former Jammu and Kashmir police constable Mushtaq Ahmed Wani to 8 years in jail for being a member of the banned terror organization Lashkar-e-Toiba. Continue reading
Sayed Salahuddin was born on 02/18/1946 in Budgam, inthe Indian state of Jammu & Kashmir under the name Mohammed Yusaf Shah.
Continue reading
Abdullah Uni was the Lashkar-e-Toiba - Let operational commander of Kashmir since late 2008. He was pronounced dead on 03/26/2009 after a shootout with the Indian army.
Continue reading