Ethiopia
– SLAUGHTER THE JEWS [2]
–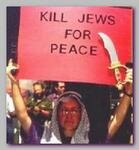 Arik, 54,  Jewish Israeli worker in an Israeli communications company in Africa was attacked by Sudanese citizen during an Ethiopian Airlines flight from Chad to Ethiopia last Thursday 10/29/2015; crew members, Lebanese passenger save the Israeli and overpower… Continue reading →
– YONATHAN MELAKU DETAINED NEAR THE PENTAGON
Yonathan Melaku, who was carrying a suspicious device and pro-Al Qaeda literature, was arrested in Arlington National Cemetery, early on Friday 06/17/2011, triggering a bomb scare. Continue reading
Mohammed Seraj the leader of the attempt on the Egyptian President Hosni Mubarak in Addis Ababa, on 06/26/1995, is a Sudanese citizen.
Continue reading
On 06/26/1995, when the Egyptian president Hosni Mubarak arrived to Addis Ababa, Ethiopia's capital, he and his convoy were ambushed in Bole Road,
Continue reading
Ethiopia stretches on 1,104,300 km in East Africa between Somalia and Eritrea in the East and North, Sudan in the West and Kenya in the South.
Continue reading
Sheikh Sharif Ahmed, the head of the Council of Islamic Courts (CIC) in Somalia, who was toppled by Ethiopian troops,has been sworn in, on Saturday 01/31/2009, as the new president of Somalia.
Continue reading
Islamist insurgents have captured, on Monday 01/26/2009, most of Somalia's central city of Baidoa - one of the last strongholds of the fragile transitional government.
Continue reading
On 03/30/2008 Islamic opposition fighters took over Buulo Burte, about 200 km North of Mogadishu, from pro government Somali troops, backed by the Ethiopian army.
Continue reading
Somalia is in chaos and civil war for about 2 decades. A large part of the country is ungoverned and ruled by local war lords and tribal leaders.
Continue reading
The national security director of SOMALIA'S interim government, said, on 12/13/2007, that the "Council of Islamic Courts" (CIC) is regrouping and that 80% of the country is not under SOMALIA'S interim government control.
Continue reading