Yemen
THE WEAPON'S TRIAL TO YEMEN & SOMALIA
–
The USA Navy said in a statement Monday04/04/2016 it has seized a weapons shipment in the Arabian Sea from Iran likely heading to war-torn Yemen.
The Navy said that the USS Sirocco on 03/28/2016 intercepted and seized the… Continue reading →
TOP ISIS IN YEMEN, JALAL BALEEDI, KILLED.
–
The leader of Islamic State in Yemen Jalal Baleedi  was killed in a drone strike early on Thursday 02/04/2016, residents and officials said.
They said the strike targeted a car in which Jalal Baleedi and two of his… Continue reading →
– ISIS CLAIMED ADEN'S GOVERNOR KILLING
–
Islamic State of Iraq and Syria (ISIS) claimed, on Sunday 12/06/2015 morning,  responsibility for an explosion which killed the governor of Yemen's Southern Aden province, Jaafar Mohammed Saad, ' earlier the same day
In a statement posted on… Continue reading →
– 2 WEAPON BOATS HIT BY SAUDI JETS
–
Warplanes from the Saudi-led coalition hit, on Saturday 11/28/2015, two small boats allegedly carrying weapons to Iran-backed Houthi militias on the southern coast of Yemen, a military official said.
Weapons were being unloaded from the two fishing boats near… Continue reading →
– YEMEN'S ADEN BOMBINGS – A FURTHER COMPLICATION
–
The guidelines of the war in Yemen  were, so far, relatively  obvious. Sunni Arab countries, led by Saudi Arabia and backed the Sunni President Hadi Mansour  were fighting Shia Saada Rebels, known as the Houthis from… Continue reading →
– YET ANOTHER IRANIAN WEAPONS SHIPMENT SEIZED
–
Arab coalition forces, not the failed American led coalition against I.S.I.S but the Saudi led coalition  against pro Iranian Houthi Saada Rebels in Yemen,  have announced,.  on Wednesday 09/30/2015, the capture of an Iranian boat carrying… Continue reading →
–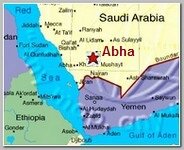 A mosque used by security forces in Abha, in Southern Saudi Arabia, close to the Yemeni border, known as Asir province. was, on Tuesday 08/06/2015, the target of a suicide bomber The explosion claimed the life of at least… Continue reading →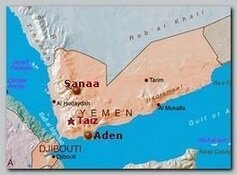 Over 1,000 prisoners escaped from Taiz  jail, on Tuesday 06/30/2015 night, as fighting raged in Yemen's third-largest city between pro Iranian Shia Houthi rebels and forces loyal to the country's ousted president, residents said.
It was at least the… Continue reading →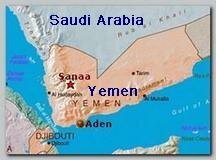 Amide so called 'peace talks' in Geneva, on Wednesday 06/17/2015, the political headquarters of the Houthi militias and three Mosques were targeted in a series of bomb blasts in the Yemeni capital Sanaa, killing 31 and wounding dozens,
Additionally, the… Continue reading →

Six Yemeni prisoners held for years at Guantanamo Bay detention centre have been transferred, on Friday 06/12/2015, to Oman, the USA says. The six are Idris Ahmad Abd Al Qadir Idris, Sharaf Ahmad Muhammad Masud, Jalal… Continue reading →