Analyses
SYRIA: PEACE WITHOUT PARTNERS
–
Just few days ago, on 01/14/2016, a "Unity" government deal was struck   between the rival Tobruk and Tripoli regimes, backed by the international community, was formed in Libya aimed, first of all, to fight the Islamic… Continue reading →
EUROPE COULD FACE WAR "WITHIN A FEW YEARS'
–
Citing the situation in Sweden, the recent decisions of domestic politicians, and global instability, the chief of the Swedish army General Anders Brännström told men under his command they could expect to be fighting a war in Europe against… Continue reading →
– EUROPE'S FEARS
–
The UK 's home secretary Theresa May has vowed, on Monday 10/19/2015, to "systematically confront and challenge extremist ideology" as she detailed new curbs on those who "spread hate".
Radical Islamic  preachers will be banned from posting… Continue reading →
–
Just six weeks ago, by the end of 09/2015, Russia build up in Latakia and intervention in Syria was considered as a game changer. Almost all regional leaders went to Russia to meet and coordinate their moves with the… Continue reading →
– THE SYRIAN WAR TURNS GLOBAL
–
As hundreds of Iranian Revolutionary Guards and Lebanese Hizbullah gather in Syria for a counter attack , with Russian air support from their base in Latakia it was reported, on 10/14/2015, that even Cuban army elements arrived to Syria… Continue reading →
–
Syria is no longer the state we knew for seven decades in the Middle East. The country is totally destroyed, about a third of its 28 Millions citizens fled the country or killed, an internal wave of displaced and… Continue reading →
– THE BIZARRE JOKE ABOUT "BRIGADE 30" AND MIGHTY AMERICA
–
About two months ago, in early 07/2015, a group of about 65 U.S.-trained Syrian "moderate' rebels", labeled as "Brigade 30", who according to USA Strategy are supposed to fight the Islamic State and/or Jabhat al-Nusra and to be… Continue reading →
– THE TALIBAN RALLIES BEHIND MULLAH AKHTAR MANSOOR
–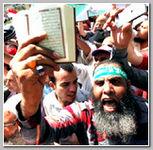 An apparent Islamic State recruitment document found in Pakistan's lawless FATA region reveals that the Islamic State  group has grand ambitions of building a new terrorist army in Afghanistan and Pakistan, and to trigger a war in India… Continue reading →
–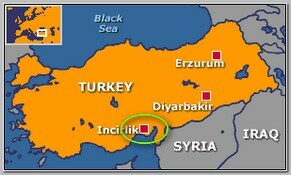 Turkey has agreed, on Thursday 07/23/2015, to allow USA planes to launch air strikes against Islamic State  fighters from the airbase at Incirlik, close to the Syrian border, US defence officials said.
The decision was a day after… Continue reading →