Russia-caucasus
Russia and the Caucasus
ISIS COMMANDER ABU-OMAR AL-SHISHANI. EVENTUALLY, DEAD !?
–
According to initial reports, on Monday 12/28/2015 morning,  ISIS senior commander Abu-Omar al-Shishani (from Chechnya), 29, was captured by a joint Kurdish-American special operation in Northern Iraq near Kirkuk, together with al-Shishani the special force had… Continue reading →
UZBEK MUSLIM NANNY BEHEADED A CHILD IN MOSCOW
–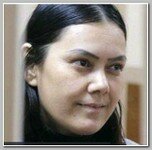 * Gulchekhra Bobokulova, a 38-year-old mother of three  from Uzbekistan and a nanny in Moscow, Russia's capital, was accused, on Wednesday 03/02/2016, of murdering and then decapitating a little girl in her care has admitted in court… Continue reading →
RUSSIA'S STRATEGIC TOOL AGAINST EUROPE – ISLAMIC MIGRATION
–
Russia and Syria are deliberately using migration as an aggressive strategy towards Europe, the senior NATO commander in Europe, US Gen Philip Breedlove , has said on Tuesday 03/01/2016 . He said they were "weaponising" migration to destabilise and… Continue reading →
ALEPPO BATTLE -A SETBACK FOR RUSSIA
–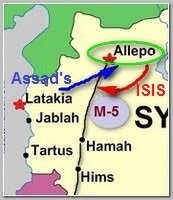 Despite heavy bombardments and intensive airstrikes of the Russian air force stationed in Syria and despite substantial gains on the ground to close on Aleppo Islamic opposition forces, now more coordinated and consolidated than before, due to the… Continue reading →
– U.S & RUSSIA TO DEEPEN THEIR INVOLVEMENT IN MEAS"T WARS
–
The U.S.-led virtual coalition fighting Islamic State of Iraq and Syria (ISIS) needs to take back the cities Mosul and Raqqa and will use "boots on the ground" as part of its strategy in doing so, U.S. Defense Secretary… Continue reading →
– RUSSIA TO STAY IN SYRIA 'INDEFINITELY'
–
Newly published details, on Sunday 01/17/2016,  of the deal, signed on 08/26/2015, before Russian airstrikes in the country began, suggest Moscow may maintain a long term military presence in the Middle East 
Details of the agreement regulating… Continue reading →
– TOURIST KILLED IN DAGESTAN TERROR SHOOTING
–
One man has been killed and 11 injured, on Tuesday 12/29/2015 night, in shooting at Naryn-Kala fortress in the city of Derbent, a fortress popular with tourists in Southern Dagestan.in the Caucasus, southern Russia.
The dead man has been… Continue reading →
– ISIS BEHEADED ALLEGED CHECHEN RUSSIAN SPY
–
A new typical propaganda video titled "You Shall be Disappointed and Humiliated O Russians" purportedly released by the Islamic State. on Wednesday 12/02/2015. shows an alleged Chechen Federal Security Service – FSB – spy named Khasiev Magomid. 23,… Continue reading →
– CRACKS IN ANTI-ISIS COALITION, TURKEY DOWNED A RUSSIAN FIGHTER JET
–
Just two days ago, on 11/22/2015.  it seemed as rival nations with conflicting interests are coming together to form a "Grand coalition' as French President Francois HOllande described it after the Paris Terror Carnage of Friday 11/23/2015, to… Continue reading →
– 11 ISIS AFFILIATED KILLED IN NALCHIK, THE CAUCASUS
–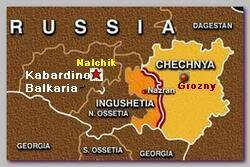 11 militants affiliated to I.S.I.S have been killed by security forces in Russia's North Caucasus region. Russia's national anti-terrorism committee said in a statement cited by TASS news agency on Sunday.
"All of them were participants in an armed… Continue reading →