Turkey
TRIPLE SUICIDE ATTACK ON ISTANBUL'S ATATURK AIRPORT KILLED DOZENS
–
At least 44 people have been killed and 230 wounded in a triple suicide attack at Istanbul's Ataturk international airport, on Tuesday 06/28/2016 at about 21:30 local time, Turkey sources said late Tuesday.
Earlier, Turkish officials and… Continue reading →
YET ANOTHER EXPLOSION IN ISTANBUL – 11 KILLED
–

An explosion rocked the central Istanbul district of Vezneciler  near Istanbul University and tourist sites. at a bus stop, on Tuesday 06/07/2016 morning, and some people were wounded, broadcaster CNN Turk reported. 
It said many ambulances were… Continue reading →
YET ANOTHER SUICIDE ATTACK IN TURKEY
–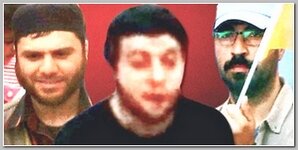 Turkish police were searching Monday 03/21/2016 for three alleged I.S.I.S members suspected of planning further attacks after a suspected ISIS suicide bombing in Istanbul that killed four foreigners, Dogan news agency reported. 
Turkish media published photographs of the… Continue reading →
34 KILLED IN ANKARA' CAR BOMB BLAST
–
About 34 deaths and 125 injuries have been reported in central Ankara after a car bomb exploded, on Sunday 13/03/2015 evening, in Kizilay neighbourhood near transport hub in Ankara,  the Turkish capital.
It is the third… Continue reading →
ANKARA EXPLOSION KILLED AT LEAST 28 MILITARY PERSONNEL
–
A large explosion in the Turkish capital, Ankara, on Wednesday 02/16/2016 evening,  has killed at least 28 people, Turkish officials said. The target had been Turkey's military personnel, who were travelling in a separate vehicle.  
A vehicle… Continue reading →
– 10 KILLED IN ISTANBUL SUICIDE BOMBING
Several dead and wounded, on Tuesday 01/12/2016 at about 10:20 local time, after a powerful  explosion rocked a central Istanbul Sultanahmet square, Turkish television stations reported. Sultanahmet square in Istanbul is, a major tourist attraction.  Turkish police sealed… Continue reading →
– TURKEY FOILED NEW YEAR EVE'S SUICIDE ATTACKS
–
Turkish police, on Wednesday 12/30/2015, have arrested in Ankara two suspected suicide bombers linked to the Islamic State of Iraq and Syria (ISIS) militant group who were plotting an attack on New Year's Eve in the capital, a Turkish… Continue reading →
– THE KURDISH THIRD INTIFADA (UPRISING)
–
The Kurdish population in South Eastern Turkey preserve the right of self determination like any other nation in the world. They fought Turkey for an autonomy during the years 1984-1993, then a second round in the years 2004-2012, following… Continue reading →
– YET ANOTHER NEW RIFT IN THE MIDDLE EAST
–

Turkey was once a close friend with Syria, In 04/2010 they planned joint military exercises. Following the 'Mavi Marmara' incident with Israel, on 05/31/2010, which put an end to the long lasting strategic relations with Israel, on 02/11/2011, just… Continue reading →