China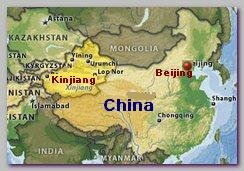 Ethnic Uighurs in Xinjiang North-Eastern province of China  attacked, on Monday  06/22/2015,  police with knives and bombs at a traffic checkpoint and at least 18 people were killed., Radio Free Asia reported on Wednesday, and at… Continue reading →
– SECURITY MEASURES IN XINJIANG, CHINA
The Chinese government has ordered, on Thursday 08/04/2011, a sweeping security clampdown in the western Xinjiang region, the country's top police official has said. Continue reading
Seven people have been killed, on Thursday 08/19/2010, in an explosion in Xinjiang province, Western China.
Continue reading
By all accounts the number of Uyghur participating in a protest, on Sunday 07/05/2009, in Urumki, against the Chinese regime could not reach more then few thousands.
Continue reading
There are a little more the 7 millions ethnic Uyghur in Xinjiang province in North-West China, a minority in their own region, due to massive Chinese immigration encouraged by the Chinese authorities.
Continue reading
Chinese police have smashed seven terror cells so far this year in the country's predominantly Muslim far-western region of Xinjiang, state media reported on Wednesday 06/03/2009.
Continue reading
The Obama administration imposed, on Monday 04/20/2009, financial sanctions on an alleged terror leader, known as Abdul Haq, 43, accused of trying to carry out attacks at last year's Beijing Olympic Games in China.
Continue reading
Pakistani forces have recovered an unmanned Chinese-made drone aircraft (see - UAV) and a major weapons cache in a raid on a suspected Al Qaeda hideout in the tribal areas near Afghanistan, a top commander said on 09/14/2005.
Continue reading
Three Chinese engineers were killed, on 05/03/2004, near the port town of Gwadar in Baluchistan, South West Pakistan.
Continue reading
A man was seriously injured, on Wednesday 12/24/2008, in an explosion at a coffee bar here in southwest China's Yunnan Province, police and witnesses said.
Continue reading