– OVER 80 KILLED IN YEMEN BOMBARDMENT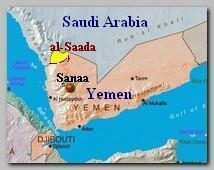 Over 80 civilians died in an air strike which hit a camp of displaced people in northern Yemen, near the border with Saudi Arabia, witnesses said on Thursday 09/15/2009. According to AFP, an eyewitness said that most of those killed in Wednesday's raid were women and children.
The strike was carried out by a "warplane (that) targeted displaced families who had gathered under trees in the area of Adi," in Amran province, the witness said. Local aid workers and tribal sources conveyed the air raid came around midday. They reported seeing body parts flying in the air and pools of blood where hundreds of the displaced had taken refuge.
Fighting has intensified since the Yemeni army launched an operation targeting the Saada Rebels in mid 08/2009 (see – Saada 08.13.09).
The UN estimates that this latest wave of fighting has added up to 50,000 people to the existing 100,000 made homeless by earlier rounds of fighting. 
.
* Related topics – 
–
09/2009 -FRAGILE TRUCE REACHED IN YEMEN 
07/2009 -AL QAEDA CELL IN YEMEN SENTENCED 
06/2009 -HASSAN BIN ALWAN ARRESTED IN YEMEN
.
**********-N-************
Read more ;
–