BBC News
– MANY KILLED IN JALALABAD DOUBLE SUICIDE BOMBING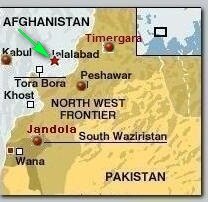 At least 33 people have been killed and 100 injured, on 04/18/2015 at about 09:30 in a double suicide bomb attack in the eastern Afghan city of Jalalabad, close to the border with Pakistan FATA areas.  .
The blast happened outside a bank where government staff and military personnel were collecting their salaries, the region's police chief said. As emergency crews helped survivors there was a second explosion
No group has said it carried out the attack, and a spokesman for the Taliban said it was not involved.
Related topics :
03/2015 – WOMAN BEATEN TO DEATH IN KABUL – INNOCENT !  
03/2015 – PESHAWAR SCHOOL CARNAGE 
04/2011 – 10 TROOPS KILLED IN JALALABAD, AFGHANISTAN 
02/2011 – DOZENS KILLED IN JALALABAD BANK ATTACK
*******************************
Read more : 
BBC NEWS 
THEGUARDIAN-U.K