– 6 JAILED IN JORDAN FOR PLOTTING TERROR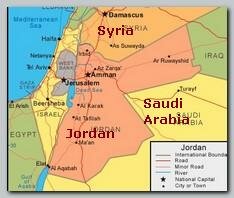 Jordan's State Security Court, on Tuesday 03/01/2010, handed down lengthy jail terms to six Jordanians convicted of planning attacks on Israeli troops during OPERATION CAST LEAD in Gaza Strip in January 2009, judicial sources said.
Five of the suspects were arrested in April and May 2009, while the other is still at large and was tried in absentia.  Mohammad Jamal Hamdan, who is still at large, was sentenced to life imprisonment with hard labor.
Osama Abu Kabir, Sakhr Zeidan and Hassan Khalayleh were sentenced to 15 years with hard labor. The court also jailed Walid Abu Ourah and Alauddin Khawaldeh for five years with hard labor.
"All defendants plotted to leave Jordan illegally and join fighters in the Gaza Strip at the beginning of 2009," the indictment said. 
.
* Related topics –
01/2010 -JORDAN NABBED 40 MILITANTS  
01/2010 – ISRAELI EMBASSY CONVOY ATTACKED IN JORDAN  
.
*********************
Read more:
–