– ISRAELI PLANES BOMBED IN GAZA STRIP
–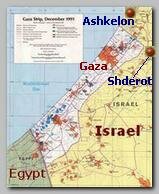 In response to growing number of rockets fired to Israel from Gaza Strip on daily bases and the deadly clashes on the Israel-Gaza border in which 3 Israeli soldiers were killed and a similar number of Hamas fighters in the last week (see also -Kissufim 03.26.10) , Israeli planes have carried out 13 air strikes on Tuesday 04/01/2010 night, the Hamas-ruled Gaza Strip, Palestinian sources said.
Four of the strikes took place near the town of Khan Younis, where two Israeli soldiers were killed in clashes with Palestinian fighters last week. The Israeli military said the operation was targeting four weapons factories. The strikes are the most serious for more than a year since OPERATION CAST LEAD. Three Palestinian teenagers were lightly wouunded in the attacks. .
Witnesses and Hamas officials said the Israeli raids targeted metal workshops, farms, a milk factory and small sites belonging to the military wing of Hamas.
Palestinian news agencies reported that Israeli aircraft dropped leaflets over parts of Gaza on Thursday warning residents of retaliation for last Friday's killings of the soldiers in Khan Younis.
 "Israel will not tolerate terroristic activity inside Gaza that threatens Israeli citizens," a Israeli spokseman said.
.
* Related topics –
–
02/2010 -DOZENS ISLAMISTS ARRESTED IN EGYPT  
02/2010 -RED CROSS CONVOY IN GAZA ATTACKED  
02/2010 -IMPROVISED SEA MINES DRIFTED ONTO ISRAEL
.
************************

;Read more
–