8 FRENCH MEN CHARGED WITH FINANCING TERROR
8 FRENCH MEN CHARGED WITH FINANCING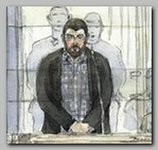 Eight men went on trial, on Monday 01/03/2011, in Paris for their alleged roles in an armed gang accused of using explosives and the threat of violence to finance Islamic terror operations.
Prosecutors say the gang set up a restaurant and a cybercafe in Clichy-Sous-Bois suburb of Paris to try and hide their criminal activities — an "elaborate strategy to promote and finance the cause" of terror, the indictment alleges.
The trial, set to continue until 01/28/2011, takes place five years after the suspects' arrest in an anti-terror sweep. It is common in France for investigators to work on cases for years before they go to trial.
Some of the suspects have acknowledged being members of a criminal gang, but all have denied that their goal was to finance terrorism, Le Figaro newspaper reported. The alleged ringleader Ouassini Cherifi (pic), 36, has already spent time in prison from 2000-2004 for trafficking phony passports to Islamic radical groups.
All of the men — a French-Algerian, four Tunisians, an Algerian and two French citizens — are charged with "criminal association in relation with a terrorist enterprise," and some are also accused of terror financing and illegal possession of weapons.
The gang is accused of using explosives to blast a hole in the wall of a warehouse of a money transport company in Beauvais, north of Paris, in 2005 — but the hole wasn't big enough for them to get inside, and they left empty-handed. After the suspects were rounded up, police discovered weapons and explosives in a storage space in the Paris suburb.
Ouassini Cherifi and three others remain behind bars, while the rest have been freed pending trial. They risk up to 20 years in prison.
Prosecutors say that while behind bars in 2000 Ouassini Cherifi met Algerian-born Safe Bourada, who was serving eight years in prison for his role as recruiter in a logistics group that helped Islamic extremists stage deadly bombings in the Paris subway and elsewhere in 1995 (see – 1995-bombings).
Investigators suspect Safe Bourada, while in prison, recruited followers who became members of a France-based terror cell known as "Ansar al-Fath," or Partisans of Victory.
Ouassini Cherifi is also accused of contact with one of Bourada's lieutenants in Algeria, Mohamed Ben Yamina. Prosecutors have accused Cherifi of promising to set off bombs in Europe and finance actions by Ansar al-Fath.
* Related topics ;





11/2010 -FRANCE REJECTED ISLAMIC MILITANTS DEMANDS






11/2010 -5 DETAINED IN FRANCE OVER TERROR









10/2010 -SAUDIA WARNED FRANCE OVER TERROR