BIGGEST REFINERY IN IRAQ CLOSED
BIGGEST REFINERY IN IRAQ CLOSED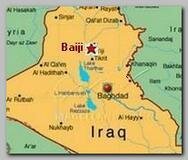 On Saturday 02/26/2011 dawn, gun and bomb attack has shut down Iraq's biggest oil refinery, Baiji, with at least two employees killed.
The attackers stormed the site in Salaheddin province north of Baghdad at 04:30 planting bombs in one of its units. A fire broke out and the installation was badly damaged, officials said.
At one time Baiji was controlled by Al Qaeda, who used it to fund militants. Baiji is one of three major refineries in Iraq, the others being in the capital Baghdad and at Basra in the south. It processes about 150,000 barrels of oil per day. "The refinery has completely stopped," the governor of Salaheddin province, Ahmed al-Jubouri, told Reuters news agency.
"It's a big loss for the whole country. All Iraqi cities depend on its production." It took 50 fire engines five hours to bring the fire under control, police said. "Fixing the damage will take long time," an unnamed official at the refinery said. "We are not talking about days, the damage is too severe." But he added that it was hoped a partial restart could be made "in the next few days".
The attack was, most likely, an attempt to take advantage on the Middle East Crisis and on the soaring oil prices to magnify the impact of the attack and to boost the energy panic in the Western Democracies. Just few day ago Libya shut down its oil fields and Islamic militants blew up the gas pipeline from Egypt to Jordan, near El-Arish on 02/05/2011 (see – El-Arish 02.05.11). In Bahrain and on the Saudi shores of the Gulf where most of the Saudi oil reserves are,
Shiites, with some help from Iran, are leading growing unrest and the oil supply to the West is coming under serious threat (see – MEAS"T CHAOS)
* Related topics ;








02/2011 -EGYPT'S  VICTORY  DAY






02/2011 -BAHRAIN 2011 UNREST






01/2011 -FAMILIAR  HISTORY  
************************