CAR BOMB KILLED OVER 20 IN FAISALABAD
CAR BOMB KILLED OVER 20 IN FAISALABAD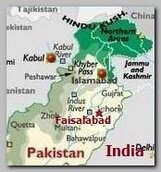 At least 20 people have been killed and more than 120 injured after a car bomb tore through a gas station in the Pakistani city of Faisalabad, on Tuesday 03/08/2011 noon. The bomb caused several gas cylinders at the station to explode, destroying cars and buildings. Police said that the number of dead could rise as many of the injured were in a critical condition. Militants regularly bomb targets across Pakistan, but this is the first bombing in Faisalabad in recent years.
The Pakistani Taliban, Tehrik-e-Taleban, said they carried out the attack, saying it was to avenge the death in custody of one of their members.
Compressed natural gas is a popular fuel in Pakistan and there were thought to be many vehicles at the gas station when the car bomb exploded."It was not a suicide attack," Faisalabad city commissioner Tahir Husain said. "The bomb exploded near the gas cylinders that triggered a bigger blast." It is not clear whether the station was the intended target.
Correspondents say there are a number of sensitive locations in the area such as government offices, a police station and the offices of Pakistan's ISI spy agency.
The blast was so large that, according to witnesses, it reduced the station to a heap of twisted metal and rubble.
Faisalabad is a key hub for Pakistan's textile industry and has seen sectarian and religious shootings in the past. But it has not been targeted by militants who have carried out bomb attacks across Pakistan in recent years.
The city is in Pakistan's Punjab province where pro-Taliban militant groups have been increasing in strength (see also -Mehran-Investigation).
The Pakistani Taliban have launched attacks on security establishments with devastating effect on a number of occasions in the past few years. Pakistan's military regularly launch offensives against militant strongholds in the tribal areas bordering Afghanistan in NWFP and FATA regions of the country (see – Mohmand 02.04.11).
* Related topics ;








03/2011 -PAKISTANI CHILDREN PLAYING SUICIDE BOMBING






03/2011 -PAKISTAN'S MINORITIES MINISTER ASSASSINATED






02/2011 -SCHOOLBOY KILLED 31 IN PAKISTAN  
****************************