36 AFGHAN RECRUITS KILLED IN SUICIDE ATTACK
36 AFGHAN RECRUITS KILLED IN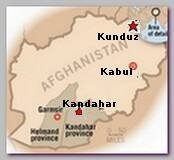 At least 36 people have been killed, ON Monday 03/14/2011, in an apparent suicide attack on an army recruitment centre in northern Afghanistan, local officials have said.  More than 40 people were also reported to have been injured in the attack in the city of Kunduz.
On Friday 03/11/2011,, the Kunduz province police chief was killed by a suicide bomber. Over the last few years, the once peaceful province has become increasingly unstable as the Taliban have infiltrated the area.
People were waiting in the recruitment centre when the attack took place, a senior official said.  Those killed included civilians – some of them women and children – as well as men who had come to enroll, and officers in the Afghan army, he said.
This attack comes four days after the provincial police chief of Kunduz, Abdul Rahman Sayedkhili, was killed by a suicide bomber on a motorcycle in the city, along with four other people. The Taliban say they carried out the attack. Last month 30 people died in another suicide bombing in the city (see – Kunduz 02.21.11).
The Taliban have been warning Afghans not to allow their sons and brothers to join the country's security services. The police and army are undergoing a rapid expansion as they prepare to take control from foreign forces, due to end their combat operations in Afghanistan in 2014 (see – Petraeus W Plan).
The United Nations has said the insurgents have changed their tactics and are now increasingly targeting civilians, in an effort to hinder the transition of power in the country, our Kabul correspondent adds.
In Iraq, also on Monday,
A suicide bomber has blown up his car outside an Iraqi army battalion headquarters in the country's east, killing 10 soldiers and wounding 29 people (see also – Killed 02.25.11).
* Related topics ;








02/2011 -DOZENS CIVILIANS KILLED BY NATO AIR STRIKES






02/2011 -9 KILLED IN JALALABAD BANK ATTACK






02/2011 -ROGUE AFGHAN SOLDIER KILLED NATO COLLEAGUE






02/2011 -TALIBAN'S TIDE IN HELMAND RETREATING 
*************************