UZBEK MILITANT DISGUISED AS A WOMAN CAPTURED
UZBEK MILITANT DISGUISED AS A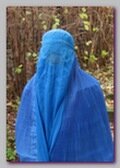 A senior leader of the Islamic Movement of Uzbekistan -IMU,  has been captured, on Monday 06/27/2011,  in Kunduz, northern Afghanistan dressed up like a woman.  It is the latest in a recent series of cases involving male militants disguised as females, NATO-ISAF said Tuesday. Islamic Movement of Uzbekistan –IMU is an offshoot of Al Qaeda in Central Asia. Aligning itself with Al Qaeda, IMU  has been most active in the north where violence has been on the rise.
A joint Afghan and coalition force apprehended a leader of the Islamic Movement of Uzbekistan and two of his associates during a night-time operation Monday in Kunduz city, NATO said. NATO did not release the names of the three suspects caught in Kunduz (see also – Kunduz 03.14.11).
"The leader attempted to disguise himself as a female by wearing a burqa, which is an all-enveloping cloak worn by some Muslim women," the coalition said in a statement. "In the last two months there have been several instances of targeted males wearing burqas in attempts to disguise themselves in order not to be caught by Afghan-led forces."
Separately, the coalition said two NATO service members had been killed in the south. One was killed Monday by a roadside bomb and the other died Tuesday in an insurgent attack. No other details were released.
The deaths bring to at least 55 the number of NATO service members killed in June in Afghanistan, including at least 34 Americans.
* Related topics ;





06/2011 –8 YEARS OLD GIRL USED AS A BOMB






06/2011 –THE VACUUM U.S LEAVES BEHIND






06/2011 –60 KILLED IN HOSPITAL BOMBING IN LOGAR, AFGHANISTAN






06/2011 –OBAMA – AFGHAN WITHDRAWAL AS PLANNED 

 
**************************************