– OVER HUNDRED ISLAMIC MILITANTS SWOOP EL-ARISH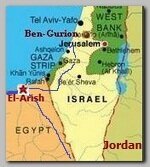 Two people were killed as dozens of armed men in cars waving flags with Islamic slogans rampaged through the north Sinai city of El-Arish on Friday 07/29/2011, an Egyptian health ministry official said. Around 150 men in trucks and on motorbikes fired assault rifles into the air, forcing terrified residents into their homes, witnesses told AFP. In that occasion the assailants also blew up, the fifth time, the main gas pipeline to Israel and Jordan with anti tank missiles (see also -El-Arish 07.12.11) .
"We have two bodies of civilians in the morgue now and 12 police conscripts being treated for injuries in hospital," Hisham Shiha, a deputy health minister, told state television.
The official MENA news agency said Hassan Qweidar, 70, and Nasser Abdelsalam, 13, had died of gunshot wounds after they were caught in the clashes. MENA said added that a lieutenant colonel and a captain were also injured, while witnesses said some of the gunmen were wounded in the fighting. An airplane was heading to El-Arish to transport the injured security forces to a military hospital, MENA said.
Waving black flags which read "There is no God but Allah," the gunmen stormed through the city and tried to force their way into a police station but were confronted by policemen and soldiers. A witness told AFP that the two sides were trading fire outside the police station.
Earlier, the masked men used a front-end loader to damage a statue of the late president Anwar Sadat, who was assassinated by Islamist militants in 10/1981.
The violence came after a peaceful noon time demonstration in one of the city's squares, part of country wide protests of the Muslims Brotherhood in Egypt, including a hug demonstration in Cairo's Tahrir square, who want any future constitution to assert that Egypt is a Muslim state.
The Muslims brotherhood is the most powerful and organized political power in Egypt, except the Egyptian Army.
So far the Egyptian revolution resulted in with growing economic crisis, serious deterioration in internal security, partial loss of state sovereignty over Sinai Peninsula and a slow sliding toward even more Islamisation of the Egyptian politic.
There are growing indications that, eventually, EGYPTS REVOLUTION is hijacked by the Islamist in the country. 
* Related topics ;
– 
11/2011 -AL-TIHI ARRESTED IN EL-ARISH, SINAI  
07/2011 -U.S POLICY CRISiS  
05/2011 -CLOUDS ABOVE EGYPT  
04/2011 -CRAWLING RADICALIZATION IN EGYPT
*********************************
Read more ;