U.K'S EMBASSY IN KUWIAT UNDER TERROR ALERT
U.K'S EMBASSY IN KUWIAT UNDER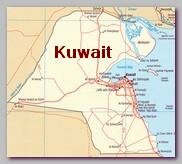 The British embassy in Kuwait has temporarily suspended its services because of a terror threat, the Foreign Office has said on Thursday 10/20/2011. They advised British organizations and businessmen to review their security measures, although it said the threat was targeted at the embassy itself. Threats against other UK interests in Kuwait could not be ruled out, it said. The Foreign Office said services were suspended until after the weekend.
A spokeswoman said all non-essential staff had gone home.
The statement issued by the embassy said: "There is a general threat from terrorism in Kuwait. Terrorists continue to issue statements threatening to carry out attacks in the Gulf region."
"These include references to attacks on Western including European interests… residential compounds, military, oil, transport and aviation interests," it added.
The embassy is also advising British nationals to exercise caution before sailing in Kuwaiti waters, following what it termed "maritime restrictions" issued by Kuwait last month.
Prince of Wales is due to visit the country in two weeks' time to mark the 50th anniversary of its independence.  When asked whether the visit would still take place, a Clarence House spokeswoman said: "We are keeping security under constant review as we would with any visit and we are taking advice from the Foreign Office."
About 20,000 British nationals live and work in Kuwait.
* Related topics ;





09/2011 -U.S EMBASSY IN RIYADH ISSUED TERROR WARNING






09/2011 -AUDACIOUS TALIBAN ATTACK IN KABUL KILLED 25






09/2011 -ISRAELI EMBASSY IN CAiRO EVACUATED, HUNDREDS INJURED






07/2011 -14 CHARGED IN ANKARA WITH U.S EMBASSY PLOT






06/2010 -BLAST NEAR U.K EMBASSY IN SANAA  
****************************
Read more
CNN ARTICLE