WOULD BE BOMBER AMINE EL KHALIFI ARRESTED IN WASHINGTON
WOULD BE BOMBER AMINE EL KHALIFI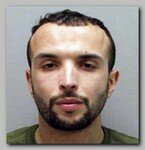 Amine El-Khalifi,
29, was arrested, Friday 02/17/2012, near the U.S. Capitol as he was planning to detonate what he thought was a suicide vest, given to him by FBI undercover operatives, said police and government officials.
Moroccan Amine El-Khalifi of Alexandria, Virginia, was taken into custody with an inoperable gun and inert explosives, according to a counter-terrorism official.
Amine El-Khalifi made a brief appearance in federal court in Alexandria, Va., on Friday afternoon, wearing a green shirt and black pants and holding his arms together behind his back. A judge set a bail hearing in his case for Wednesday at 2 p.m.
A criminal complaint charges him with knowingly and unlawfully attempting to use a weapon of mass destruction against property that is owned and used by the USA.
Emine El-Khalifi expressed interest in killing at least 30 people and considered targeting a building in Alexandria and a restaurant, synagogue and a place where military personnel gather in Washington before he settled on the Capitol after canvassing that area a couple of times, the counter-terrorism official said. During the investigation, the official said, Emine El-Khalifi went with undercover operatives to a quarry in the Washington area to detonate explosives.
Emine El-Khalifi came to the U.S, on 06/27/1999, with his parents on a trip to Orlando, Florida, when he was 16 years old. He had overstayed his visitor visa for years.

Emine El-Khalifi

worked at odd jobs and had occasional minor scrapes with the law, including a marijuana charge and traffic infractions. Emine El-Khalifiis not believed to be associated with Al Qaeda or alike.
Emine El-Khalifi

had been under investigation for about a year, according to the counter-terrorism official and a government official briefed on the matter who spoke on a condition of anonymity because the investigation is ongoing.
On Friday, before preparing for what he allegedly considered a "martyrdom" mission, Emine El-Khalifi prayed at Dar al-Hijrah Center, a Northern Virginia Mosque, according to its imam,
Johari Abdul-Malik
, who said he learned of Khalifi's presence in an afternoon phone call from the FBI.
Emine El-Khalifi was, then, driven into downtown Washington by "Yusuf" and another man, known as "Hussein", who were working, both, undercover with the FBI. Afterward, El-Khalifi began walking alone toward the Capitol but quickly was arrested, authorities said.





"Yusuf" claimed to be from Al Qaeda, but was actually an undercover officer working for the JTTF. He talked with El-Khalifi for months about El-Khalifi's alleged plan and, by early 12/2011, introduced him to "Hussein".

.
A former landlord in Arlington, Va., said he believed Emine El-Khalifi was suspicious and called police a year and a half ago.
Frank Dynda
said when he told Emine El-Khalifi to leave, the suspect said he had a right to stay and threatened to beat up Dynda. Dynda said he thought Emine El-Khalifi was making bombs, but police told him to leave the man alone. Dynda had Emine El-Khalifi evicted in 2010.
Emine El-Khalifi had several men staying with him and based on packages left for him, Dynda said. It appeared that he was running a luggage business from the apartment, though Dynda never saw any bags.
Police are close to arresting one of Emine El-Khalifis associates on charges unrelated to the terror conspiracy, the counter-terrorism official said. The associate was said to also be a Moroccan, living here illegally. Police are investigating others Emine El-Khalifi associated with, but not because they believe the associates were part of a terror conspiracy, the official said.
Two people briefed on the matter told The Associated Press he was not arrested on the Capitol grounds, and the FBI has had him under surveillance around the clock for several weeks. They spoke on a condition of anonymity because they were not authorized to speak publicly.
**
Following months of close surveillance it is clear that Emine El Khalifi was not affiliated to any Jihadi organization, he acted alone and was, most likely, radicalised in USA, probably through Jihadi websites and charismatic figures like Samir-Khan or others (see -INSPIRE MAGAZINE).
* JIHADI FIGURES RELATED TO DAR AL-HIJRA CENTER IN aLEXANDRIA,VA.





12/2009 -Sargodha Arrests






11/2009 -Maj. Malik Hasan



2003-4 – Ismail Elbarasse

2000 -Anwar al-Awlaki

2000 -Ahmed Omar abu-Ali
* Related topics ; 


2012 -TERROR SUSPECTS ARRESTED IN U.S

02/2012 -ULUGBEK KODIROV CHARGED WITH ATTEMPT ON PRESIDENT OBAMA

**************************