TENSION IN AFGHANISTAN OVER KORAN BURNING
TENSION IN AFGHANISTAN OVER KORAN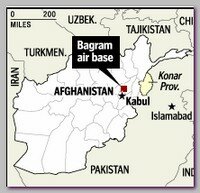 The NATO-ISAF commander in Afghanistan, US Gen
John R Allen,
has apologised on Tuesday 02/21/2012, over reports foreign troops may have burnt copies of the Koran.
Announcing an inquiry, Gen John R Allen said any "improper disposal" of religious materials was inadvertent. Reports suggest the books were taken from prisoners in Bagram air base after the US uncovered a secret Taliban message system.
Rumours that a Koran had been burnt led to protests outside the US base at Bagram north of Kabul. One man was hurt when NATO troops fired rubber bullets.
President
Hamid Karzai
condemned the reports that the Koran had been burnt, as did the Taliban who said the incident would hurt the feelings "of one billion Muslims around the world".
US Defence Secretary
Leon Panetta
called the incident "inappropriate and deeply unfortunate".
Afghan police siad that at least 1,000 people took part in the demonstration earlier on Tuesday, shouting "Allahu akbar" (God is great) and that some elders went into the Bagram base to talk to NATO officials (see also – Bagram Escape).
Afghan officials told the AP news agency that the Korans were in rubbish that two soldiers with the US-led coalition transported in a lorry late on Monday night to a pit on the base where waste is burned. When five Afghans working at the pit noticed the religious books in the rubbish, they stopped the disposal process.
"Foreign troops tried to burn a container of holy Koran books at three o'clock in the morning, but the Afghan mujahideen employees working at the base did not allow them," protester M
ohammad Zahir
told the BBC.
It is thought that documents containing extremist inscriptions were taken from the library, says the BBC's
Andrew North
in Kabul. An unknown quantity of these materials were then burnt, according to military officials, among them some Korans.
In January 2011, about a year ago, a similar incident ignited county wide violence in which many were killed including 8 UN staff (see -Mazar 04.01.11).
* 7 people were killed in riots all over Afghanistan, on Wednesday 02/22/2012, including 2 American soldiers who were shot dead by an Afghan man wearing a uniform of the army in a military base in Nangarhar province (see also – Nangarhar 11.29.10). The incident occurred just tow days after 2 Albanian soldiers were killed by Afgan policemen in Spin Boldak, Kandahar province (see – Spin-Boldak 02.20.12).
Mohammad Hassan
, a local Afghan leader in Nangarhar province, confirmed the gunman was, indeed, an Afghan rogue soldier.
12 more were killed, on 02/24/2012, after Friday priers.
* Related topics ;


06/2011 -WILDERS ACQUITED OF HATE CRIMES

03/2011 -CONVICTED OF BLASPHEMY AND DIED IN PRISON

02/2010 -NORWEGiAN MUSLIMS PROTEST OFFENSIVE CARTOON

10/2009 -AFGHANS PROTEST OVER KORAN RUMOR 
**********************************