– SPAIN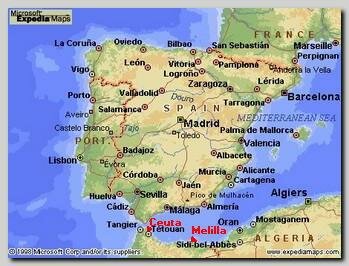 SPAIN, in South West Europe, has a population of about 40 million (03/2007) and stretches on 492,000 km.  About 1.2%, half a million, are Muslims. The prominent group of Muslims in SPAIN is from Moroccan descent.
SPAIN is ruling also two small enclaves Ceuta, just on the African side of the Gibraltar strait and Melilla on the Moroccan Mediterranean coast of Africa. Thousands of immigrants, most of them Muslims, encroach the borders from Morocco to these enclaves which are legally Spanish. SPAIN is lately building electronic fences to stop the illegal immigration through the two enclaves.
In the 10th and 11th centuries SPAIN, Al Andalus as the Arabs called SPAIN, was a center of Islamic and Arabic culture and an example of good cooperation and tolerance between Christian, Jews and Muslims which brought to many achievements in all fields of life.
After centuries of wars between Christians and Muslims the Muslims were expelled from SPAIN, along with the Jews in 1492.
SPAIN is a Democracy since 1976 and a senior member in the European Union. The main problem of SPAIN, currently, is the very low birth rate and a larger number of older people which forces SPAIN to accept large numbers of immigrants in order to keep up with the economical growth. Therefore SPAIN has a very liberal and tolerant approach to all immigrants to the country.
Besides a short alliance with USA in Iraq war on 2003-2004 SPAIN have no serious conflicts with any other country in the world except a minor dispute with Morocco over some rocks in the Mediterranean coast of Morocco.
* Related topics ; 
03/2001 -NADRID TRAINS BOMBING 

07/2001 -TARRAGONA MEETING

  
                                               *****************************