– TENTENA BOMBINGS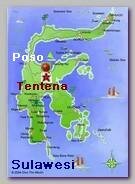 On 05/28/2005 at about 08:00, two bombs exploded, about 15 minutes apart, in the market of the Sulawesi town of Tentena, about 60 kilometers inland from the coastal town of Poso in Indonesia, in a predominantly Christian region. 22 people were killed by the double explosions. Other 50 people were wounded in the blasts.
The Tentena bombings follow an attack, on 05/22/2005, by gunmen on a police post in the Moluccas islands further to the East that killed five police.
Sulawesi has been the scene of religious fighting between Muslims and Christians in Indonesia that has claimed thousands of lives since 2000.
On 07/03/2005 Indonesian security officials published the arrest of four suspects in committing the Tentena bombings in Poso region on separate occasions. The police said they had found traces of TNT, of the same kind as found at the Tentena bomb sites.
According to National Police spokesperson, Zainuri Lubis, police suspected that the terrorists responsible for the Tentena bombings might be tied to the Solo terrorist group that was involved in the Bali 02 Bombing.
On 03/20/2007 four INDONESIAN JI cell members: Sarwo Edi Nugroho, 40, Sikas, 37, Amir Ahmadi, 32, and Mahfud Qomari alias Sutardjo, 33, were arrested in a police raid in Yogyakarta in South-Central Java, in connection with the Tentena bombings. A fifth suspect Agus Suryanto, was shot and killed in the raid when he tried to flee the scene.  Agus Suryanto was a student of Dr Azahari Husin, the INDONESIAN JI bomb-making expert.
A day later, the police found a cache of explosives at the home of Sikas in Sukoharjo, Central Java. Police also arrested Saiful Anam–Mujadid in Temanggung, then two other cell members: Achmad Syahrul alias Doni, 25 and Kholis, 38, in Surabaya, East Java. Explosives were found in the homes of the two suspects from East Java. The police claimed that the total amount of explosives confiscated was enough to make a bomb twice as powerful as the Bali 02 Bombing.
Saiful Anam alias Mujadid who the Indonesian police believe was the mastermind of the Tentena bombings, was put under police surveillance shortly after the attack. Saiful Anam – Mujadid is suspected of detonating himself one of the bombs at Tentena market on 05/28/2005. He was shot in the leg during the arrest when he tried to escape.
* Related topics –  
–
11/2004 -POSO  MARKET BOMBING
05/2004 -PEKANBARU  BOMBING  
*******************************
Read more ;