– YEMEN BOMBS ATTACK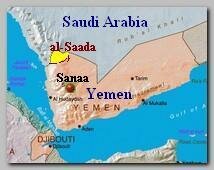 On 03/18/2008 noon, two explosions occurred, almost simultaneously, in Sanaa, Yemen's capital. A mortar shell was fired, probably to the USA embassy, but hit a girls' school near by, in the central district of Sawan, killing a guard of the embassy. Four other guards and 15 school children were wounded.
Already on 12/05/2006 an unidentified man opened automatic fire on the USA Embassy in Sanaa with an AK 47 Klashnikov rifle but he caused no harm or damage.  
Five Yemeni soldiers were wounded in the other explosion at a government compound in the southern province of Abyan, known as the stronghold of Khaled Abdul-Nabi.
.The nature and the targets of the attack suggested an armed Islamist group was behind the simultaneous blasts. Despite that a police official told the AFP news agency that the Sanaa blast "is a purely criminal incident," suggesting that the attack was not linked to the US embassy. A Yemeni interior ministry official told the AFP that the attack was most likely linked to a dispute between a teacher and the school's administration.
Terror cells affiliated to Al Qaeda are still operational in Yemen and there is an ongoing conflict with the Shiite minority in al-Saada region, in North Yemen, led by Hussein al-Huthi. On 02/01/2008, helped by Qatari mediation, a peace deal was signed between the Yemen regime and the Shiite tribes in the North of the country but in that part of the world peace is always a temporary situation.
On 03/20/2008 the Yemen police announced the arrest of 5 suspects in committing the attack which was masterminded by Qassim al-Raimi.
** A court in the capital Sanaa sentenced, on Monday 07/13/2009, 6 Yemeni citizens to death and 10 other defendants to jail terms ranging from eight to 15 years for committing the attack as well as other terror attacks ( See – Sanaa 07.13.09 ).
** Hamza Ali Saleh al Dhayani, suspected of assisting the attack, turned himself in Marib province, on Sunday 06/06/2010 (see – Qadasi -Zaidi ).
* Related topics – 
–
01/2008 -U.S EMBASSY CAR IN KHARTOUM ATTACKED  
01/2008 -TOURISTS KILLED IN YEMEN ATTACK
*******************
Read more ;