– ANDREW ROWE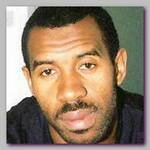 * Andrew Rowe was born in 1971 in UK to a family from Jamaican descent and lived in West London. By the age of 19 Andrew  Rowe had drifted into a life of crime, taking and dealing in drugs and fencing stolen property. In 1990 he converted to Islam, probably after he was addicted to drugs and went through a personal crisis. He is married and a father of four. His first wife and children are living separately.
Andrew  Rowe often visited what he called the "Moroccan" mosque at Ladbroke Grove in West London, where new converts were offered a place to sleep and given their own room in which to study books and videos.
In 1995 Andrew  Rowe traveled to Bosnia as a Muslim volunteer and fought alongside the Muslim forces, probably as a mortar gunner. In 07/1995 Andrew  Rowe was injured when a convoy he was travelling in was attacked and he suffered shrapnel wounds to his legs. Andrew  Rowe needed hospital treatment and returned to England where he claimed he had been injured as a volunteer driver.
After returning to England, Andrew  Rowe married another Muslim convert called Shabia Tafla in 1997. By this time he had turned his back on his family and did not invite his mother to the wedding at Southall Mosque.
Andrew  Rowe was under MI5 surveillance during 2003. Malaysian security sources believe that Rowe was involved in a plan to mortar bomb Heathrow airport, which was cordoned off by the army in 02/2003, six months before his arrest. British police did not confirm the allegation.
In 08/2003, while Andrew  Rowe was in Europe, searches of his former flat in west London and Birmingham revealed an A Qaeda tape, a notebook filled with instructions on how to operate mortar bombs and a secret code made up of mobile phone models.
Andrew  Rowe was arrested in 10/2003 by the French authorities in the French side of the Channel Tunnel and handed over to Britain, after he returned from a visit of an unidentified terror activist in Frankfurt, most likely with the Frenchman Lionel Dumont. Traces of explosives were found on his socks. Andrew  Rowe claimed that he used the socks in Bosnia to clean his mortar. 
In the ten years prior to his arrest Andrew  Rowe was constantly travelling back and forth to all regions of conflict with Muslims in the world, Chechnya, Bosnia, Afghanistan and Pakistan. British MI5 believes that Andrew  Rowe was a professional currier between Al Qaeda cells all over the world. Andrew  Rowe used four legal passports in 7 years, claiming he lost them, which was probably the main reason why he was put under surveillance.
On 09/23/2005 Andrew  Rowe was convicted on two charges of possessing items which could be used in terror attacks. He was sentenced to 15 years in jail.   
* Related topics – 
–
11/2007 -U.K UNDER TERROR THREAT 
1994-2002 -THE FRANKFURT  GROUP  
PROFILE -MUSTAPHA BAOUCHI  
********************
Read more ; 
BBC NEWS  
SEANBRYSON