– TASHKENT 99 BOMBINGS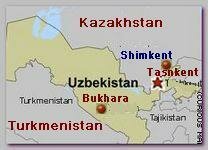 On 02/16/1999 6 car bombs exploded, almost simultaneously, in the Center of Tashkent, Uzbakistan's capital, in what appeared to be an attempt on Uzbakistan's president Islam Karimov's life. The attack, carried out, probably, by -IMU operatives killed 16 and wounded 128 people.
One of the assailants who was killed during the series of bombings, probably as a suicide bomber, was the older brother of Rahim Sultangzayev, who was arrested in Kazakhstan in early 2005 for being an Al Qaeda member and an attempt to form an Al Qaeda cell in Southern Kazakhstan (see – Cent-Asia Events).
Uzbek police identified a married couple as suspects in a series of car bombings.
The explosions in Tashkent, coincidentally or not, occurred at a moment when Uzbekistan is weathering deep economic crisis, popular discontent and a decline in foreign investments.
Following the failed attempt the Uzbek authorities seized the violence as justification for the mass roundup of up to 7,000 Muslims whom they considered Hizb-ut-Tahrir and Islamic Movement Uzbekistan (-IMU) operatives and supporters. Some of the Muslim detainees were tortured.
* IMU is also considered responsible for carrying out kidnappings of Western visitors and to Uzbekistan in 1999 and 2000. In August 1999, the IMU took a group of four Japanese geologists and eight Kyrgyz soldiers hostage. A year later, in summer 2000, the IMU kidnapped four American mountain climbers who were visiting that country. The four escaped their captors.
* In 04/2003, construction workers found a probable improvised explosive device in a Tashkent hotel. The explosives were reportedly similar to those used in the 1999 car bombings.
* On 09/06/2006 the Imam of Hodja Nuriddin mosque in Tashkent Rukhitdin Fakhrutdinov, 39, was sentenced to 17 years in prison on charges of extremism and involvement in the 1999 Tashkent car bombing.
* Related topics –
–
*******************************
Read more ;
INTHENATIONALINTEREST
UZBEKISTAN-EMBASSY