– KILKILYA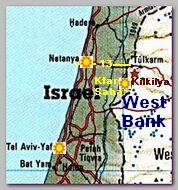 The Palestinian town in the West Bank of about 50,000 inhabitants, Kilkilya, is located about 35 km North-East of Tel Aviv and only 13 km from the shore of the Mediterranean Sea. Kilkilya is also just 2 km from the Israeli town of Kfar Saba and before the first Palestinian uprising, Intifada, in 1987 there were close relation and municipal cooperation between the two towns – Israeli Kfar Saba and Palestinian Kilkilya. Kilkilya and its neighbor Palestinian town Tul-Karem are the narrow waist of Israel. In the past, prior to the six days war, in 1967, the main security concern of Israel was a sudden armor attack which could cut Israel in two within few hours. Nowadays the main concern is home made Qassam rockets, which will be able to threaten large numbers of Israeli population in the most populated heartland of Israel.
The Kilkilya elected municipality is controlled by Hamas and a local city police is actually a Hamas controlled militia. Therefore Kilkilya is surrounded by Israeli fences from three directions and the only road from Kilkilya to other Palestinian towns is monitored by deferent means by Israeli security forces although Israel does no interfere in the daily life and the Palestinian self municipal performance.
On Saturday 05/30/2009 night, Palestinian security forces, loyal to the Palestinian President Mahmoud Abbas – Abu Mazen and trained by the Americans, and Hamas gunmen were exchanging fire after PA (Palestinian Authority) converged on a house where the Hamas men were barricaded and demanded that they turn themselves in, the Palestinian Maan news agency reported.
The report quoted Palestinian security officials who denied rumors that six of the policemen had been wounded in the exchange.
Hamas's Al-Aqsa TV reported that the PA men were attempting to arrest a Hamas cell which had been planning to show its solidarity with the residents of the Gaza Strip by staging a demonstration.
According to Hamas, there were six people in the house, including Muhammad a-Saman, one of the most wanted Hamas activists in the West Bank. Hamas said that they held the PA responsible for the fate of its men.
In the aspect of fighting Hamas there is an unwritten cooperation between the Palestinian Authority and Israel, although for different reasons. Trained by Americans and loyal to Abu Mazen they are fighting Hamas in order to maintain the grip of unpopular Abu Mazen's on the Palestinian society in the West Bank, while Israel is fighting Hamas because of its devotion to the destruction of Israel and because Hamas is functioning as an outpost of Iran, which promised to wipe out Israel from the map. 
There is a growing cultural, economical, political and social rift between the Palestinian society in Gaza Strip and the West Bank. The rift becomes deeper and wider with time and the prospect of peace between Israel and an integrated Palestinian society is undermined fast.
* Related topics –  
–
06/2007 -U.S PLAN FOR  PALESTINIANS  
****************A******************
Read more ;