– DAMMAM SHOOTOUT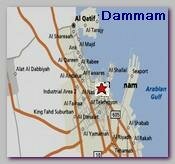 Saudi security forces, hunting Al Qaeda activists in Saudi Arabia, closed in, on Sunday 09/04/2005, on a hideout apartment where militants were hiding,  in the town of Dammam, about 450 km North East of the Capital Riyadh, on the Gulf and close to Khobar (see also – Khobar Hostages Crisis ). A police officer was killed in the shootout. Zaid Saad Zaid al-Sammari, 31, no. 3 in the list of 36 most-wanted, issued in Saudi Arabia on 06/28/2005, was killed while another militant was critically wounded. He died soon after in hospital.
A number of militants managed to escape and found refuge in a 2 story building near the Dammam promenade, not far from the local USA consulate. The police besieged the building and evacuated nearby residents. On Tuesday 09/06/2005 noon, Saudi Special Forces stormed the building. Three other militants were killed in the showdown. The four other militants killed aside Zaid Saad Zaid al-Sammari were later identified as: Salih Mansour Mohsin al-Firaidi al-Harbi, 22, no. 5 on the list of the 36 most wanted, Sultan Salih Hosan al-Hasri, 26, no. 5 on the list who took part in the abduction and beheading of Paul M. Johnson in Riyadh, on 06/12/2004 and Naif Farhan Jalal Aljihaishi al-Shammari, 24, no. 13 on the list of the 36.
A fifth person was initially identified wrongly as Mohammed Abdulrahman al-Suwailmi, 23, no. 7 on the list. al-Suwailmi was killed later, on 12/27/2005, in al-Qassim region. The real identification of the fifth militant killed in Dammam remains unclear. Three police officers were killed too bringing the total number of security personnel killed in the event to four.
The security forces found weapons including machine guns, pistols, quantities of ammunitions, hand grenades, locally made pipe bombs, telecommunications devices, calculators, a sum of money, 18 bags in addition to two barrels full of explosive mixtures, a truck, photographing devices and forged documents.
The Saudi police also arrested 11 persons of different nationalities, who were suspected of having relation with this incident.
* Related topics – 
–
2003-4 -CLASHES & ARRETS IN SAUDIA
***********************************
Read more ;