– NOUREEDINE MALKI [ ALMALKI NOUR ]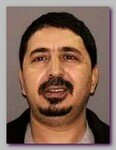 In 1989 Almaliki Nour arrived to USA and asked for political asylum. He claimed that he fled Iraq to Lebanon and came up with the story that in Lebanon he was suffering religious persecution, including death threats, because his mother was Roman Catholic and his father Muslim (cross religious marriage are not rare in Lebanon and the story was somehow bizarre). 
On 02/18/2000 Almaliki Nour received, eventually, American citizenship through marriage. He worked as a translator for the USA army in Iraq, in 2003-4, with the L-3 Titan Group, which had a military contract to provide Arabic-speaking interpreters. While in Iraq Almaliki Nour developed ties to several Sunni sheiks whose tribes supported the insurgency, and they provided him with cash to travel to Egypt and Jordan. His lawyer, Mildred M. Whalen, said later that Almaliki Nour had spoken to the Sunni sheiks as part of their negotiations to get contracts with the United States military and that the conversations had developed into social relationships.
Almaliki Nour (or Noureedine Malki) was held, on 11/07/2005, without bail, on charges that he had lied to gain USA citizenship. Federal prosecutors also said he had made unexplained telephone calls from the United States to people linked to the Iraqi insurgency. Noureedine Malki had a classified document in his Brooklyn home, a prosecutor said at the bail hearing in Federal District Court in Brooklyn. "This document, which is quite thick, contained detailed information about the insurgency and the means for combating it," said the prosecutor, John Buretta. Investigators also found telephone numbers for two known Iraqi insurgents stored in the man's cell phone address book.
Mr. Buretta said the translator Almaliki Nour had also made about 100 telephone calls to numbers that were directly involved with the insurgency, including some that had been found in safe houses that may have been used by Abu Musab al-Zarqawi.
Prosecutors said that much about him – including his real name and his background – remained unclear. At one point, he told FBI agents his real name was Noureedine Malki, but investigators could not confirm that. They believe he is, in fact, from Morocco.  
Noureedine Malki (or Almaliki Nour) admitted that many of the statements made on his asylum application and a subsequent application for citizenship were false, and that the name was fictitious, according to the complaint.
On 02/14/2007 Noureedine Malki pleaded guilty of unauthorized possession of classified documents. On 05/19/2008 Almaliki Nour was sentenced to 10 years imprisonment for unauthorized possession of classified documents. He was never charged for supporting terror or the insurgency in Iraq. 
.
* Related topics – 
–
2009 -JAVED IQBAL CHARGED OF CONNECTION WITH AL-MANAR 
11/2007 -FAWZI  ASSI PLEADED GUILTY 
2007 -NADA NADIM PROUTY – A POSSIBLE STORY  
PROFILE -MOHAMAD YOUSSEF HAMMOUD 
.
***********************
Read more ;
–