SUNNA & SHIAA COMBINE
SUNNA & SHIAA COMBINE AGAINST U.S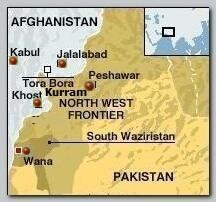 On Sunday 11/28/2010 the British Sunday Times reported that Shiites in Pakistan, who control a key piece of tribal real estate, cut a deal with the deadly Jalaluddin Haqqani's network to give insurgents a safe, alternative route to Afghanistan through Pakistan's Kurram FATA tribal region, said Munir Bangash, who is familiar with the deal. He is the chairman of the Community Rights Program, an independent organization trying to broker peace between Kurram's Shiites and Sunnis while bringing development to their areas.
A second tribesman from Kurram confirmed the deal but spoke only on condition of anonymity fearing retribution from the Taliban and from fellow tribesmen. Under the agreement, the Shiites gave the Haqqani network safe passage through Kurram from its Pakistan strongholds in neighboring North and South Waziristan across the border to its Afghan bases in Khost and Paktia provinces, Munir Bangash said (see also – Khost 12.30.09).
In return, the Haqqanis intervened with the Sunni Muslim militants to get them to agree to a truce with the Shiites in Kurram. The two sects have been engaged in brutal tit-for-tat killings, although most of the dead have been Shiite Muslim. Rival Sunni Muslims have also blocked the only highway connecting Kurram to Pakistan's Khyber provincial capital of Peshawar.
The deal underlines the problems of shutting down the Haqqani network's access to its bases in Afghanistan from its refuges in Pakistan. It is yet another sign that Iran encourages Shiites, who are very distrustful toward Sunni militant groups, to overcome their controversy and help Sunni Muslims to confront USA (see – IRAN'S Interest). In Pakistan Shiites are often targeted by local Sunni militias such as Lashkar-e-Jhangvi.   
Two day earlier two leaders of Sirajuddin Haqqani's insurgent network were apprehended in overnight raids in eastern and northern Afghanistan NATO-ISAF said, on Friday 11/26/2010. The raid is a part of the international military coalition's stepped up campaign to kill and capture militant bosses in Afghanistan.
A joint Afghan and coalition force in the eastern province of Khost captured a Haqqani leader known for transporting bomb-making materials (see also – khost 09.24.10). He was the 12th leading member of the network captured in the province this month, NATO said. Intelligence reports led the security force to a compound in Tere Zayi district to search for the man, who was detained along with one of his associates.
In Baghlan, a joint force targeted a series of compounds and captured another key Haqqani figure, who served as a liaison between the network and Taliban operatives in northern Afghanistan. Six of his associates were taken into custody as well (see also – Kunduz 04.15.10).
NATO said the facilitator — a top target for the international force — was reportedly in contact with Pakistan-based senior leadership from both insurgent groups.
Separately, NATO said a service member died Friday in a homemade bomb attack in southern Afghanistan, bringing to 40 the number of coalition service members killed in Afghanistan so far this month. At least 35 are American. More than 640 U.S. and international troops have died so far this year.
* Related topics ;
11/2010 -TALIBAN IMPOSTOR DUPED AFGHAN OFFICIALS
11/2010 -HIZB-E-ISLAMI OFFERS TRUCE TERMS IN AFGHANISTAN
PROFILE -ATIYAH ABD AL-RAHMAN
******************