BBC News
– 22 CIVILIANS KILLED IN AFGHANISTAN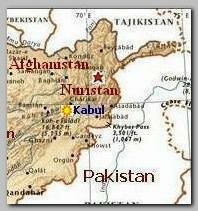 On 07/04/2008, a USA air strike in Nuristan district of North-East Afghanistan on two vehicles in a side road killed 22 civilians, including women and children, on their way to leave the region. The attack happened on a road in Want district while the noncombatants were traveling in two vehicles Zia-Ul Rahman, the district governor told reporters. 
According to the Governor the civilians were evacuating the district as they were told by the USA-led troops to do so because they wanted to launch an operation against the Taliban in the region .
The U.S. military confirmed a strike, but claimed those killed were militants.
The issue of civilians killed by foreign troops is a sensitive one in Afghanistan as it undermines public support for the presence of around 71,000 NATO-ISAF troops in the country and the government of President Hamid Karzai.
* Related topics –  
–
04/2008 -KARZAI ESCAPED ATTACK IN KABUL  
04/2008 -20 KILLED IN ZARANJ, SOUTHWEST AFGHANISTAN  
04/2008 -11 POLICEMEN KILLED BY TALIBAN  
11/2007 -12 AFGHANS KILLED BY US-LED ATTACK
*******************
Read more ;