– BINYAM MOHAMED TO BE RELEASED SOON
–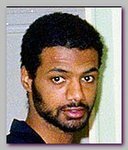 A British resident Binyam Mohamed, 30, held at Guantanamo Bay, is to be released "as soon as practical arrangements can be made", the UK Foreign Office has said on Friday 02/20/2009.
Binyam  Mohamed will return to the UK after more than four years at the controversial US military base in Cuba, following the order of the new USA president Barack Obama, given on his second day in office, to shut down Guantanamo within a year (see – Gitmo-the end ).
Binyam  Mohamed's lawyers say he poses no risk to the UK, but it is not clear if he will be allowed to stay in Britain. Although Binyam  Mohamed's legal team did not expect him to be arrested or detained by British authorities, his immigration status in the UK remained "very much under review".
The Ethiopian-born detainee has been held at Guantanamo since 09/2004 after his arrest in Pakistan. The US accused him of involvement in a plot to detonate a "dirty bomb" in America, but all charges against him were dropped (see – Summer 2004 Alert).
Binyam  Mohamed claimed he was tortured into falsely confessing to terrorism and alleged MI5 officers were accomplices in his abuse (see – U.K Court 02.10.10). Binyam  Mohamed alleged he was secretly flown from Pakistan to Morocco and tortured before being moved to Afghanistan and on to Guantanamo Bay (see – Extraordinary Rendition).
Earlier in 2008 he went on hunger strike for more than a month, and was described by his legal team as "close to starvation". However, he was lately declared well enough to travel back to the UK by a team of British officials who had visited him.
Former Guantanamo detainee Moazzam Begg said more than 500 inmates had been released from the centre, including 12 or 13 Britons, but everyone left there should be moved.
Meanwhile the UK government will not press for the remaining UK Guantanamo detainee Shaker Aamer to be freed.
The US government has previously refused requests to release Shaker Aamer and a Foreign Office spokesman said Britain is "no longer in active discussions" for his release.
However, campaigners disputed this, saying Shaker Aamer's lawyers had confirmation in writing from the Foreign Office that the government was still calling for his return.
Binyam  Mohamed was among about dozen of former Gitmo detainees that were compensated by the British authorities following a judicial settlement, on 11/15/2010 might (see – Gitmo Copensations ).
* Related topics –
–
07/2008 – AAFIA SIDDIQUI ARRESTED IN AFGHANISTAN 
PROFILE – ADNAN EL SHUKRIJUMAH – JAFAR THE PILOT 
*************************
Read more ;