– PAKISTAN WARNED OF TERROR STRIKES IN INDIA
–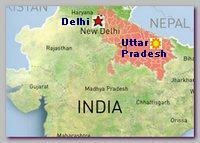 Days after a caller from Pakistan warned of terror strikes in Uttar Pradesh's Saharanpur district. On Thursday 02/26/2009, the Indian police have received an anonymous letter naming sites where the attacks would take place, an official said Friday 02/27/2009..


"We received the letter Thursday night from a local journalist, who got a call on his mobile phone to collect the letter placed near a pole outside City Palace shopping complex in Saharanpur", district police chief Amit Chandra told IANS over phone.
According to the letter, nine terrorists are hiding in the district with the help of some businessmen. Two cinema halls, three prominent schools, district court and four hotels are on their hit list, Amit Chandra added . The letter also said that a vehicle laden with explosives will reach the district from Punjab within the next two days. 'We are yet to nab the caller, who informed the journalist about the letter. Our preliminary investigations reveal that the call came from Saharanpur only,' said Chandra.
On 02/22/2009,, a caller from Pakistan had threatened to carry out terror strikes in Saharanpur, which is about 400 km from the state capital. The caller told a cloth merchant, Raj Kumar, that after Mumbai, Saharanpur would witness a series of terror attacks very soon, the police said. Following the threats, security in Saharanpur has been tightened.
"In the backdrop of terror activities that have taken place in different parts of the country, we cannot ignore the letter… We have already informed the intelligence officials and the Anti-Terrorist Squad. Additional security has been deployed at almost all the public places across the district" Amit Chandra said.
* Related topics – 
–
06/2008 -MOHD IBRAHIM ARRESTED OVER TERROR  
11/2007 -12 KILLED IN UTTAR-PRADESH MULTI EXPLOSIONS  
************************
Read more ;