– 4 U.S SOLDIERS KILLED IN AFGHANISTAN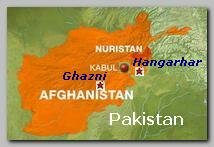 A roadside bomb attack in eastern Afghanistan, on Sunday 03/15/2009, has killed 4 USA soldiers, NATO-ISAF has confirmed. Taliban insurgents reportedly claimed responsibility for the explosion which killed the servicemen in the province of Nangarhar.
Reports suggest that the bomb went off as a convoy was passing. More than 60 foreign soldiers have been killed in the country this year, many of the losses claimed by the Taliban.
Sources in Kabul said that in the face of the worsening security situation, the US is set to deploy thousands of additional troops in an effort to bring greater stability (see – Obama's deployment ).
A separate attack on a NATO-ISAF patrol in Kabul killed two bystanders on Sunday. The suicide bombing injured 14 civilians; no foreign troops were wounded or killed. The mayor of the city of Kandahar also survived a bomb attack, which happened on his convoy; one bystander died and six others were injured.
Meanwhile, militants in Pakistan attacked a transport terminal used to supply NATO-ISAF forces in Afghanistan, destroying about 20 lorries. Fighters entered a supply depot on the outskirts of the northwestern city of Peshawar at around 1am local time (20:00 GMT on Sunday), overpowered guards and set fire to vehicles, police said (see also – Khyber 02.04.09 ).
The incidents follow the deaths of three other soldiers from NATO-ISAF in Afghanistan on Saturday.
A French soldier and five Afghan troops died during a clash with militants in Kapisa province; a British soldier was killed in an explosion in southern Afghanistan; while the third Isaf soldier, whose nationality was not released, died in a traffic accident in the north of the country.
On Monday 03/16/2009, 7 more Afghan soldiers, polcemen and civilians were killed in two separate suicide attacks. 
* Related topics –
– 
02/2009 -21 POLICEMEN KILLED IN AFGANISTAN  
01/2009 -ATTACKS RENEWED ON NATO SUPPLY
************-N-*************
Read more ;