– 12 ARRESTED OVER TERROR IN UK
–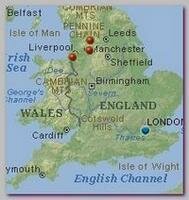 Twelve men, 11 of them from Pakistani descent, have been arrested, on Thursday 04/09/2009 night, in North-West England, just after Britain's most senior counter-terrorism police officer sparked a premature security alert.
Assistant Commissioner Bob Quick said he "deeply regretted" revealing a secret document to photographers when he arrived for a briefing at No 10. The document, clearly marked "secret", carried an outline briefing on an ongoing counter-terrorism operation. The 12 suspects were later arrested at locations across North-West England.
The raids took place at 10 addresses sooner than planned due to the documents being revealed. Some hours after the Downing Street incident, armed officers from the North West Counter-Terrorism Unit arrested a man outside the main library at Liverpool John Moores University.
Ten of those arrested are Pakistan-born nationals on student visas and one is a UK-born British national. Their precise ages are not known but range between a youth in his mid-to-late teens and a 41-year-old man.
Greater Manchester Police said several hundred officers were involved in the operation, including armed officers during some of the arrests.
Five addresses in the Cheetham Hill area of Manchester, including an internet cafe, are being searched. Three premises are being searched in Merseyside, plus a guest house in Clitheroe, Lancashire.
Two men are understood to have been arrested at a Homebase DIY store in Clitheroe, where dozens of police officers carried out a raid. In Cheetham Hill, witnesses described two men being taken from the cafe after police arrived.
Detective Chief Superintendent Tony Porter, head of the North West CTU (Counter Terrorism Unite) said: "Today's action is part of a continuing investigation and we have acted on intelligence received.  Whitehall sources indicated that the suspects had been under surveillance by MI5 and police for weeks.
British Prime Minister Gordon Brown is asking Pakistan for assistance after the arrest of 12 terror suspects in northern England, the London-based Times reported, citing comments made by Brown. One of the suspects, a teenager Muhammad Adil, a student swept up in the raids at John Moores University but released after a couple of hours. He is from Peshawar Pakistan. Muhammad Adil was handed over to the immigration authority. (see details about the suspects – U.K Suspects 04.09)
On Monday 04/13/2009 evening, a police bomb disposal squad, was sent to an area around Highgate Street in the Wavertree area of Liverpool to help with the search of the property. A day earlier police at one property in Manchester were seen removing sachets of sugar – sometimes used as a component in homemade explosives.
* Nine of the suspects have been released, on Tuesday 04/21/2009, without any charges and handed over to the immigration authority for deportation back to Pakistan. Few hours later the 3 last suspects were released too without any charges. The whole event aroused sharp criticism in UK, including allegations that the suspects were arrested, in the first place, for being Muslims (see also – Leeds Cell). 
* Tow other suspects, Sultan Sher and Janus Khan, who were due to be deported on the grounds of national security were, eventually, released on Friday 07/17/2009, but were required to wear electronic tags as the Home Office still wants to deport them due to visa irregularities. 
* Related topics –
–
11/2008 -U.K'S GROWING  THREAT 
10/2008 -U.K. INVESTIGATING 'GREAT' TERROR PLOT  
2005 -RANGZIEB AHMED – MANCHESTER  CELL
*************-N-**************
Read more ;