– IRAN MOSQUE BOMBING KILLED 25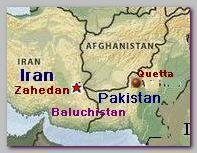 A bomb in a mosque in Zahedan, South-East Iran, on Thursday 05/28/2009 evening, has killed at least 25 people and injured 60, the governor of Sistan-Baluchestan province said. Part of the Shiite Amir al-Mohini mosque was destroyed, in what seemed to be a suicide attack. a second bomb had been defused near the Mosque,
Police said "terrorists", who had planned to detonate more bombs, were arrested. The province is often the scene of lawlessness, including clashes between police and drug dealers or militants.
Although it occurred in a remote region, the explosion comes at a time of heightened political sensitivity nationally, with just over two weeks before the First round of presidential election in Iran.
Thursday was a public holiday marking the death of the Prophet Muhammad's daughter, Fatima.
Zahedan is a mainly Sunni Muslim city in a mostly Shiaa country. Sistan-Baluchestan is one of the most deprived regions in Iran.Its location on the borders of both Afghanistan and Pakistan makes it a key route in the drugs trade.
Despite Iran's best efforts, a huge proportion of the world's opiates, such as heroin and morphine, are smuggled by heavily armed drugs gangs, often in large convoys. There are also a number of militants in the area, many of them with links to the drugs gangs, and clashes with the security forces are common.
Two years ago at least 11 people, including members of Iran's Revolutionary Guard, were killed by a bomb in Zahedan.
Foreigners are strongly advised to avoid the area, and a recent visit by a number of diplomats was accompanied by extremely heavy security, says the BBC's John Leyne in Tehran.
The insurgency is linked with the area's large Sunni population – at odds with Iran's Shiaa-led government. Few hours after the attack, Jundallah, operating from Pakistan's Baluchistan took responsibility on the attack in his website. Jundallah is long suspected by the Iranian as an organization funded by the CIA. Therefore the Iranian government accuses the USA and UK of supporting the militants and being behind the attack.  
The next day, Friday 05/29/2009 evening at about 19:00, at least three people, including a child, have been injured in an attack by armed men on motorcycles at an election campaign office run in support of Mahmoud Ahmadinejad, Iran's president, in Zahedan.
On Saturday 05/30/2009 morning, Iran executed by hanging three, caught two days earlier and charged of coordinating and masterminding the suicide attack on the Shiite Amir al-Mohini Mosque in Zahedan. They were hanged, publically, near the rebels of the Mosque.
Iran goes to the polls in presidential elections, on June the 12th.
–
12/2008 -SUICIDE BOMBER KILLED 4 IRANIAN SOLDIERS  
06/2008 -PAKISTAN EXTRADITED TERROR LEADER TO IRAN  
*************-N-*************
Read more ;