– 21 KILLED IN AFGHAN WEDDING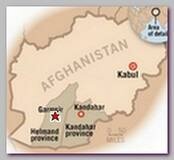 A roadside bomb in Afghanistan has killed, on Wednesday 08/05/2009, at least 21 people travelling to a wedding in the southern Helmand province of Afghanistan. It is not clear if the wedding party was the intended target of the attack.
Helmand provincial police chief Assadullah Sherzad said that women and children were among those killed in Garmsir district. Afghan Gen Shir Mohammad Zazai said those killed had been travelling on a tractor and a trailer, and blamed the incident on the Taliban.
In a separate incident, five Aghan police were killed by a roadside bomb in the Nadali district of Helmand. The interior ministry said the roadside bomb in Nadali district exploded next to a police vehicle on Thursday, killing five officers and injuring three more.
Garmsir district is a militant stronghold where USA Marines have been trying to flush out insurgents ahead of presidential and provincial council elections on 08/20/2009 (see – Kahanjar-Operation).
The Taliban have ordered a boycott of the elections and have vowed to block roads leading to polling stations. Analysts say violence is mounting as the elections draw nearer.
The blasts came as new NATO Secretary General Anders Fogh Rasmussen visited Afghanistan. He is now in the southern city of Kandahar. Mr Rasmussen said on Wednesday he was determined to reduce civilian casualties in Afghanistan.  
.
* Related topics – 
–
08/2009 – 9 FOREIGN SOLDIERS KILLED IN AFGHANISTAN  
07/2009 -SOPHISTICATED TALIBAN ATTACKS KILLED 13
.
************-N-************
Read more –
–