– IRAQ ROCKED BY CAR BOMBS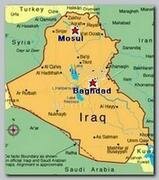 Over 40 people have been killed in separate bomb attacks, on Monday 08/10/2009 morning, near the northern city of Mosul and in the Iraqi capital, Baghdad, officials have said.
In the first attack, two lorries packed with explosives blew up in the village of Khazna, 20km north of Mosul, killing 25 people and wounding 70 others. The blast also leveled more than 30 houses. Just three days ago, on Friday 08/07/2009, 36 people have been killed in bomb attacks targeting Shiaa pilgrims mear Mosul (see – Mosul 08.07.09).
Meanwhile, in the Amil district of Western Baghdad, seven people were killed and 46 others injured after a car bomb exploded near a gathering of day-labourers waiting on the street.
In a separate attack in the nearby Shurta district of western Baghdad, another car bomb killed nine people and wounded 40 others.
The attacks come a day after Iraqi forces began dismantling a number of protective barriers around Baghdad. The government had ordered the concrete blast walls removed in an effort to restore a sense of normalcy and assure Iraqis that the security situation was improving in the country.
It announced last week that the barriers, which were put in place to protect markets, banks, buildings and major roads from suicide bombers and other attacks, would be dismantled within 40 days.
Attacks in Iraq remain common, raising doubts about the ability of Iraqi security forces to stand alone following the pull back of USA forces from the country's major cities and towns on 06/30/2009.  
.
* Related topics –  
–
07/2009 -29 SHIITES KILLED IN BAGHDAD MOSQUES ATTACK 
.
*************-N-*************
Read more ;
–