– RANIA IBRAHIM SNETENCED TO JAIL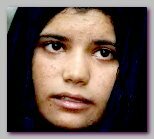 A juvenile court in Iraq's Diyala province has sentenced, on Tuesday 08/04/2009, a 16-year-old girl, Rania  Ibrahim, to seven-and-a-half years in prison for an attempted suicide attack.
Rania  Ibrahim, a would be female suicide bomber, was arrested in 08/2008 in Baqouba, capital of Diyala province, considered to be a stronghold of Al Qaeda.
Video, distributes on 08/25/2008, of the arrest shows police removing her long dress to reveal what appears to be a suicide belt. She said a relative of her husband had told her to wear the vest (see – Jalawla 08.26.08).
Later in the footage she tells the police chief that she did not know what was going on, and police said that the girl appeared to have been drugged. Rania  Ibrahim left school when she was 11. Five months before the arrest she was sold into marriage.
It was a relative of her husband, she told police, who told her to put the vest on and wait outside for further instructions. It is not clear what led to her capture, and initial reports suggested that she gave herself up. The US military has described her as an "unwilling suicide bomber" forced or tricked into staging a suicide attack.
Rania  Ibrahim's story is not unique. Dozens of teenagers, both girls and boys, were used in suicide attacks in Iraq in the years following the US invasion. 
.
* Related topics – 
.
06/2009 -THE MONSTROUS FACE OF JIHAD -SAMIRA  JASSIM  
.
************-N-***********
Read more ;
–