– KUWAIT FOILED AL QAEDA POSSIBLE ATTACK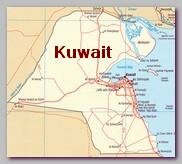 Kuwaiti authorities said, on Tuesday 08/11/2009, they arrested a group linked to Al Qaeda that allegedly planned to attack an American military base. A statement released by the Interior Ministry said, "The state security has uncovered a terrorist network following Al Qaeda, and includes six (Kuwaiti) citizens who have planned to carry out a plan to bomb Arifjan Camp, the state security building and other important facilities."
No further details were given in the statement.
Kuwaiti-based newspaper Alrai quoted an anonymous security source Tuesday as saying the group had confessed to purchasing a truck with the intention of filling it with fertilizer, chemicals and gas cylinders to run into the base.
Al-Arabiya television said the group was plotting the attack for the Muslim holy month of Ramadan, which starts on about 08/20/2009. Camp Arifjan, a vast, purpose-built $200m (£120m) camp south of Kuwait City, is the main USA base in Kuwait. 
.
* Related topics –  
–
2002-3 -KUWAIT  INCIDENTS
.
***********-N-***********
Read more ;
–