– INCIDENTS IN FRANCE 2014-5
* Saturday 12/20/2014 – Tours stabing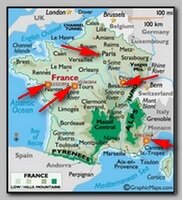 French police have gunned down, on Saturday 12/20/2014.  a knife-wielding assailant who allegedly attacked officers while shouting "Allahu Akbar -(God is great)" in Arabic.  
The man had injured three officers, two of them seriously, at a police station in Tours, France, before he was shot, Investigators are looking into whether the attacker, identified as  Burundi-born French national Bertrand Nzohabonayo, was a radicalized Muslim. Bertrand Nzohabonayo converted to Islam and recently  posted an Islamic State flag on his Facebook page  
Christophe Crepin, a member of France's police union, said the man, had "a long knife, like a kitchen knife. French media reports say the assailant's brother had spoken of his desire to travel to Syria.
Bertrand Nzohabonayo had previously committed petty offences but was not on a domestic intelligence watchlist, although his brother is known for his radical views and once pondered going to Syria, the source said.  
On Monday 12/22/2014, Burundi authorities said they had arrested Nzohabonayo's brother Brice in the capital, Bujumbura, according to FRANCE 24's sister station Radio France Internationale (RFI).  
The anti-terror branch of the Paris prosecutor's office has opened a probe into the attack, with the line of inquiry focusing on whether it was motivated by radical Islam.
Sunday 12/21/2014 – Dijon rampage  
A man who reportedly spent time in a psychiatric hospital shouted "Allahu akbar! (God is great in Arabic)" as he rammed his car into crowds at five different locations around Dijon in central France on Sunday 12/21/2014, injuring 13 people in a half-hour rampage.  
At least two people were critically injured in the attack by a 40-year-old French-born son of North African immigrants. behind the wheel of a Renault Clio, who witnesses said was acting for the "children of Palestine" and yelled "God is great,"  
According to Prosecutor Marie-Christine Tarrare the suspect had only begun to shown interest in religion a few days prior to the attack. He had a "long-lasting and severe psychological disorder" and had been hospitalised over 150 times since 2002.
Monday 12/22/2014 – Nantes Rampage  
11 people were injured after a driver crashed his van into a crowded Christmas market in Nantes, western France Monday 12/22/2014 evening. The driver then stabbed himself several times and is among five people hospitalized in serious condition, authorities said.  
local prosecutor Brigitte Lamy said the incident was an isolated incident and "not a terrorist act."
Lamy said the driver was a 37-year-old man born in the western French city of Saintes, about 240 kilometers (150 miles) south of Nantes.  
Speaking on French television, Interior Ministry spokesman Pierre-Henry Brandet said the driver in Nantes "deliberately crashed into the crowd."  
French President Holland reported Tuesday 12/23/2014 evening that one of the injured in the Nantes attack had died of their wounds.  
22/12/2014 – Paris Synagogue shooting  
Overnight on Monday 12/22/2014, shots were fired at a synagogue in Paris. The shots were fired at a room occupied by the Rabbi and his assistant, but they were uninjured.
Police were alerted and have opened an investigation into the case.
* Tuesday O2/03/205 – Nice Stabing  
Three French soldiers were wounded in Nice, Southern France, on Tuesday 02/03/2015, while guarding a Jewish community center in Nice; one attacker arrested, 2 still on run weeks after deadly Paris Terror Rampage; Nice Mayor said attacker had an ID with the name 'Moussa Coulibaly', 31, – with the same surname as terrorist behind kosher supermarket attack – Amedy Coulibaly.  
It emerged that Moussa Coulibaly had recently attempted to fly to Turkey, probably to join the war in Syria or Iraq, but had been turned back at Istanbul airport. He had Turkish lire in his wallet at the time of the attack, Nice police sources said.  
In September 2014, the radical Islamic State group – I.S.I.S that controls swathes of Iraq and Syria urged Muslims around the world to kill "in any manner" those from countries involved in a coalition fighting its jihadists, singling out the French.  Among instructions detailing how to kill civilians or military personnel was to "run him over with your car."
Related topics :
02/2015 – PARIS TERROR RAMPAGE – CHARLIE HEBDO
05/2013 – FRENCH SOLDIER STABBED IN PARIS METRO
03/2013 – 2 ARRESTED IN FRANCE OVER TERROR PLOT
04/2011 – 2 FRENCH JIHADISTS ARRESTED IN PAKISTAN
Read more ;
PATHEOS.COM
FRANCE 24
DAILYMAIL
I24-NEWS
YNET-NEWS
INDEPENDENT
AL-ARABIYA