– GERMAN TERROR ARRESTS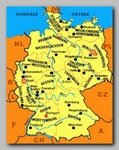 **German police, on 01/10/2015,  arrested a 24-year-old German national, identified as Nils D., who is a suspected member of Islamic State – I.S.I.S . Nils D. allegedly traveled to Syria in 10/2013, joined Islamic State and returned to Germany in 11/2014.  Nils D. was known to German security agencies and had been under investigation since early 2014 on charges of "preparing for an act of terrorism jeopardizing the state."
**German police, on 01/11/2015, arrested two suspects in connection with an arson attack on a Hamburg newspaper 'Hamburger Morgenpost' that reprinted cartoons depicting the Muslim prophet Muhammad from the French satirical publication Charlie Hebdo  following the Paris Terror Rampage.   The two suspects in the Hamburg arson case are male, aged 35 and 39.
** On Tuesday 01/13/2015 night, about 48 hours before the Verviers Raid and few days after the Paris Terror Rampage,  German authorities raided a mosque, an Islamic community center and radical Islamists' flats in cities across Germany on suspicion of having connections to militants in Syria.  
The suspects, belonging to the ultra-conservative Salafist (see – Salafiya) movement, are aged between 23 and 36 and police believe they were planning a violent attack although they made no arrests.
On Tuesday's raids, police seized computers, hard drives and electronic data from a flat in Fuerth and three flats in Nuremberg in southern Germany, where they also raided a Mosque and Islamic center. They also searched a flat in Bonn in west Germany and two flats in Weyhe in the North.
Investigators believe the suspects had raised money to send an ambulance from Germany to Syria. Once in Syria the vehicle was converted for military use with a mounted gun. The suspects also helped send vehicles to Syria for use by Islamic State, Herrmann said.
Salafists make up only a tiny proportion of Germany's Muslim population of 4 million but have clashed with police and far-right groups. German intelligence says the number of Salafists grew to 5,500 in 2013 from 4,500 the year before and it is keeping tabs on them.
Germany is also set to prosecute at least 30 suspected militants who have returned to Germany over their activities in Syria.
** Friday 01/16/2015 german police arrested in Berlin an alleged leaders and activists of a group planning to carry out an attack in Syria, police said. The arrested men were identified as Ismet D., is a 41-year-old man of Turkish origin, a self proclaimed 'Amir' (head) of a salafist group in Berlin  and is suspected of "leading an Islamist extremist group made up of Turkish and Russian nationals from (the Caucasus regions' of) Chechnya and Dagestan," the police said in a statement, adding that "there is no indication that the group was preparing attacks inside Germany." The other suspect was identified as Emin F., 32,
The group used to meet in Berlin's zoo to discuss its activity and to avoid, so they hoped, surveillance.
Related topics ;
06/2013 – JIHADISTS THREATEN EUROPE WITH FLYING MODELS
08/2012 – GERMAN TALIBAN THOMAS U. CHARGED WITH TERROR
06/2012 – PROFILE – EMRAH ERDOGQAN
04/2011 – 3 AL QAEDA SUSPECTS ARRESTED IN GERMANY
 ***********************
 Read more :  
AL-ARABIYA 
YNET NEWS 
BZ-BERLIN 
DERWESTEN
BLOOMBERG
DW-DE