– OPERATION 'PROTECTIVE EDGE' (STRONG CLIFF)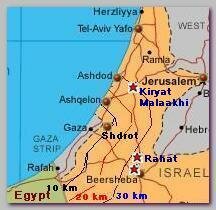 On 07/07/2014, 7 militants died in a tunnel, toward to Israel, explosion in Khan Yunis which was caused, according to Hamas, by an Israeli airstrike, Hamas assumed responsibility for  a barage of 40 rockets fired from Gaza Stripp to Israel. Hamas, sponsored and backed by Qatar and Turkey, set up its conditions to a cease fire: A. – to lift the blockade on Gaza Strip, primarily by Egypt; B. To build a harbor and an international airport both free from any international inspection, especially free from Egyptian and/or Israeli supervision.
The next day, on 07/08/2014, following operation 'Brothers Kipper' in the West Bank and increasing number of rockets fired from Gaza Stripp toward Israeli towns and villages p. Israel launched a military operation which it designated Operation 'Protective Edge'  also known as Operation 'Strong Cliff'  in the Hamas-ruled Gaza Strip.
 The stated aim of the Israeli operation was to stop rocket fire from Gaza into Israel and to restore security, stability and calm around Gaza Stripp for a long period of time without specifically define the "long period of time" only that Israel is meaning 'years' and not 'months'.
 Many of Hamas's rocket launchers and premeditated positions were located in heavily populated areas, near UN installations, public institutions and, in some cases, near hospitals. schools and kindergartens.
 Hamas tried to caught Israel on surprise by using a special marine Naval commando in an audacious attempt to raid Kibbutz Zikim, just 2 k"m Northern to Gaza Strip's border with Israel, on the seashore. Hamas also tried to use Iranian designed tactical "Suicide Drones' (UAV), known as Ababil-1, to target the Israeli  hinterland. One was shot down over Ashdod, a port town 40 k"m northern to Gaza City by a Patriot missile defense battery, on 07/14/2014, and the second, on 07/17/2014.  over Ashkelon, 15 k"m Northern to Gaza City. also by a Patriot missile.  Hamas trained special squads to ambush Israeli troops, through an internal tunnels network, in order to kidnap israeli soldiers, live or dead, and later to negotiate the terms of their release. Although Israeli troops managed to foil all those attempts Hamas succeeded to cause heavy casualties to the IDF and to slow its momentum.  .
 After more attempts to carry out spectacular attacks on Israeli villages using a network of tunnels from Gaza Stripp into Israel, the operation was expanded ,  on 07/17/2014, to an Israeli ground invasion to the marginal of Gaza Strip , with the stated aim of destroying Gaza's tunnel system; Israeli ground forces withdrew from Gaza strip  on 08/05/2014, but the exchange of fire and bombardment went on. On 08/26/2014,t, an open-ended ceasefire was announced without accepting any of Hamas initial conditions.
 Throughout Operation Protective Edge, government officials openly stated their support for Egyptian mediation, while dismissing other options, meaning any Qatari or Turkey intervention in the conflict. On 07/27/2014, USA Secretary of State John Kerry tried to mediate a cease fire, utilizing his close ties with both Egypt and Qatar. His ceasefire proposal put forth by John Kerry were, actually, a modification of Qatar and Turkey initial demands and was rejected by both by Israel and Egypt, backed by Saudi Arabia. Furthermore Hamas breached or violated all 8 temporary ceasefire declared for humanitarian or diplomatic reasons during the 7 weeks long operation.   .
 According to  IDF reports Hamas, Islamic Jihad and other militant groups had fired 4,564 rockets and mortars from Gaza into Israel, 735 of those rockets, who were designated to urban and residential areas and were intercepted in the air by the Israeli anti-rockets defense system 'Iron Dome".  224 hit built-up areas   875 inside Gaza Strip and the rest in open areas or in the sea.
 The IDF attacked 5,263 targets in Gaza; at least 34 known attack tunnels were destroyed and two-thirds of Hamas's 10,000-rocket arsenal was used up or destroyed  A bomb disposal expert in the Palestinian Interior Ministry said that by 08/22/2014t, 20,000 tons of explosives had been dropped on Gaza.
 UNRWA –
 About 2,310 Gazans, including 513 children (under 17) were killed. 66 Israeli soldiers, 5 Israeli civilians (including one child were killed in the Israeli side. Israeli officials estimated that around 50% of those killed were civilians.
 Overall, there were 7 incidents of UNRWA schools used as shelters which were hit by Israeli shells. Israel said on 11/20/2014 that it would cooperate with a UN investigation established by U.N. Secretary-General Ban Ki-moon because it was "an authentic investigation with potential for us to improve our performance in the course of conflict and learn from our mistakes.
 Already on 07/23/2014, the United Nations Human Rights Council formed an inquiry committee iand appointed, in 08/2014, the Canadian academic Prof'  William Schabas to lead a three-member group looking into alleged war crimes during Operation Protective Edge in Gaza. Prof'  William Schabas already expressed, more than once, his desire to see the Israeli Prime Minister Benjamin Netanyahu "within the dock of the International Criminal Court."  Prof'  William Schabas resigned, on 02/03/2015, because of earlier consultancy work he did for the PLO.
Related topics ;
02/2012 – GAZA BOUND ANTI-AIRCRAFT MISSILES SEIZED IN SINAI
04/2011 – VITTORIO ARRIGONI KIDNAPPED AND KILLED IN GAZA STRIP
03/2011 – GAZA FLOTILA
GAZA'S JALJALAT     
—————
**PREVIOUS NAJOR I.D.F OPERATIONS IN GAZA
11/2012 – OPERATION 'PILLAR OF CLOUD'
12/2008 – OPERATION  'CAST  LEAD' 
 ***********************************
Read more :
WIKIPEDIA – CONFLICT                                 MORE YNET NEWS A
JOSHUATARTAKOVSKY                                  MORE YNET NEWS B
JERUSALEM-POST                                            I24NEWS
YNETNEWS                                                           TIMES OF ISRAEL
WIKIPEDIA UNRWA                                          HAARETZ-IL