– OPERATION 'PILLAR OF CLOUD'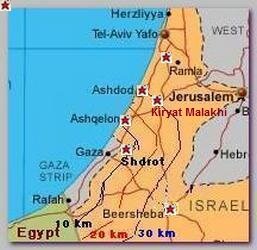 Gaza based Popular Resistance Committees – PRC – fired, on 11/10/2012, an anti tank missile toward an Israeli military vehicle, without any earlier provocation and just days after yet another ceasefire was agreed between Israel and the Hamas Authorities in Gaza Strip, severely wounding 4 Israeli soldiers. Over 100 rockets were fired from Gaza Strip into Israeli towns and villages over three days between 11/10-12/2012 . Unlike previous events in the past the Hamas took responsibility of coordinating several organizations in Gaza together to carry out the indiscriminate attacks on Civilians.
Israel said it agreed to yet another ceasefire and, on 11/13/2012, the Chief of Staff Gen' Beni Gantz and Minister of Defence Ehud Barak visited the Golan Heights, on the Syrian border, allegedly to supervise the tense situation on fighting between Syrian rebels and army just few hundred meters from the international border (see – SYRIAN DILEMA). The Hamas was persuaded that in the eve of the coming elections Israel is more concerned over the spill over of the Syrian inner-conflict to Israel than the prospect of a new round of violence in and around Gaza Strip.
Actually Israel was waiting for senior Hamas commanders to leave their shelters and to return to daily routine. Two years after OPERATION CAST LEAD, on 11/14/2012 at about 14:00 Israel seized the opportunity to kill the Hamas military wing 'Izz al-Din al-Qassam Brigades' commander and the most wanted figure in Gaza, Ahmad el-Jabari and he was killed by a missile from a UAV drone. A simultaneous attempt on another senior Hamas commander Raed al-Atar near Rafah failed.
Soon after Israeli air strikes bombed the long range al-Fajar 5 rockets storages and underground launching pads and actually destroyed Hamas capability to fire long range rockets to Tel Aviv or international Ben Gurion airport, both in the range of the Fajar 5 rockets – about 75 km from Gaza Strip . Nine Palestinians were killed in the attacks , seven militants and two girls .
The airstrikes triggered a new round of violence in and around Gaza Strip and complicated the relations between the triangle; Hamas in Gaza Strip, Israel and Egypt but Israel has no choice than to protect its citizens from over 700 rockets fired deliberetly from Gaza Stripp to Israeli civilian targets since the beginning of 2012. Unlike the past the rockets are no more homemade Qassam rockets but Russian designed Katiusha rockets smuggled from Libya to Gaza Strip through Sudan (see – MEAST NIGHTMARE) or Iranian made rockets with more accuracy and way more destructive. 
Israel and Hamas reached a long term ceasefire agreement, with Egypt and USA as supervisors and guarantors, on Wednesday 11/21/2012 at 21:00. Both sides claimed they achieved their goals. 
 * Related topics ;  
05/2012 -MORE LIBYAN WEAPON SEIZED IN EGYPT
************************************